T-Mobile has just announced new "Unlimited Family Plans" that are a great deal - if you have reasons to want multiple voice lines on T-Mobile's network.
We love the way T-Mobile has been shaking up the mobile industry, and have long recommended T-Mobile as a great secondary network for nomads on the road.
But T-Mobile's network coverage lags way behind the two giants - Verizon and AT&T. So even though a single unlimited T-Mobile line makes sense for a lot of nomadic families to power their streaming media habits (on device unlimited data can be made quite useful with a HDMI cable out to a larger display), not many have need for more than one - unless they also have people sharing the plan who are permanently in a strong T-Mobile area.
T-Mobile's individual "unlimited" plans cost $80/mo, and the new promotional offer is for multi-line families - with the first two "unlimited" lines now costing just $100, with each additional unlimited line costing an additional $40/mo.
The big limit with T-Mobile's unlimited plans though is that each line is capped at just 5GB of data that can be shared by creating a hotspot or tethering your laptop.
If you also want a data-only line (for a tablet or a hotspot), they cost an additional $40/mo for 5GB, or $70/mo for 11GB. You do however get an additional $10/mo discount on data plans if you also have a voice plan.
The current AT&T and Verizon plans may be "limited" - but at least you are not limited in how you can divide up and share your data amongst all the hotspots, tablets, and voice lines on the plan.
The other big limit hidden in the fine print is that the plans include just 50MB of roaming data. Considering just how much AT&T charges T-Mobile for roaming data, the limits are inevitable. But with T-Mobile's limited network, roaming is common - and a 50MB allotment will be gone in a heartbeat.
Here is T-Mobile's table about the promotion: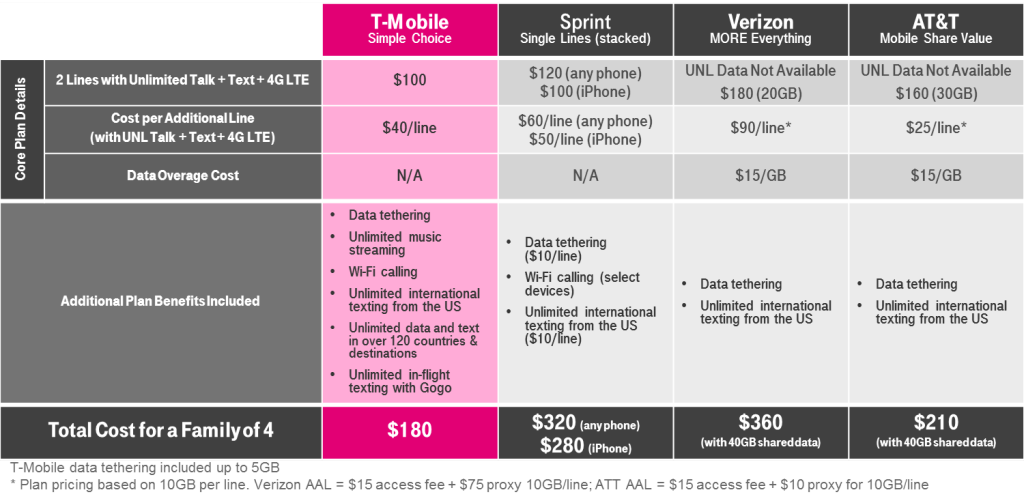 T-Mobile has also brought back their $100/mo 4-line family plan, with each line getting 2.5GB of data. Both the $100 plan and the new unlimited plans are available for a limited time, but if you sign up you will be able to keep the plan indefinitely.
Are these deals good for RVers? Perhaps. But only under limited circumstances as a supplement to other data centric options in your arsenal.