T-Mobile has yet another new gateway for its home internet service, the Fast 5688W by Sagemcom Broadband.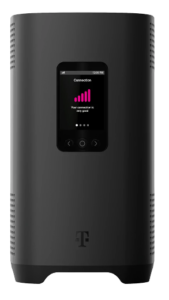 The new gateway supports 5G and LTE and covers all of T-Mobile's current cellular bands except for millimeter wave, which is only available in a few areas. It's not clear at press time which 5G cellular modem the Fast 5688W is using.
The device itself is visually and functionally similar to the Arcadyan 5G Gateway and appears to use the same or similar firmware, which only provides basic features. It is also compatible with and controllable by the T-Mobile Home Internet mobile app.
This is the third 5G gateway that's come out for T-Mobile Home Internet service. It's not clear why T-Mobile it utilizing so many different devices.
Like the other gateways, this new device comes free with the service but must be returned if the service is canceled.
Key Mobile Internet Related Considerations:
T-Mobile Home Internet has a new 5G Gateway option - the Fast 5688W
The Fast 5688W supports T-Mobile's 5G and LTE frequencies
The Fast 5688W has two Ethernet LAN ports, but does not have external antenna ports
Video Version:
For more information:
Related Content at the Mobile Internet Resource Center:
Related Updates: