Peplink released a new version of its entry-level cellular router, the Pepwave BR1 Mini, which is a complete redesign of the previous model in this lineup. Although it carries the same BR1 Mini name, it's what Peplink calls the Hardware Version 3 model (HW3) and is significantly different from its predecessor.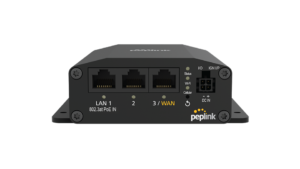 This new version is completely redesigned with an upgraded processor and internals that support 300Mbps of router throughput, triple that of the previous model. Unfortunately, the cellular modem options remain the same with either a Cat-4 or a CAT 6 modem.
Other changes from the previous version include:
Wi-Fi 5 - The new BR1 Mini supports WiFi 5 (802.11ac) and simultaneous 2.4ghz and 5ghz dual-band support. The previous BR1 mini only had 2.4Ghz Wi-Fi.
Gigabit Ethernet - The new BR1 Mini comes with three Gigabit Ethernet ports compared to the two Fast (100Mbps) ports on the previous version.
Like the previous model, the BR1 Mini HW3 requires paying an additional one-time $100 fee to active a "feature pack" that enables Ethernet WAN, Wi-Fi-as-WAN, Hot Failover, and WAN Smoothing.
The BR1 Mini (HW3) with a Cat-6 modem is available for preorder for $449 - $50 more than the previous version - and is expected to be available at the end of May 2022. Pricing for the Cat-4 model was not yet available at press time.
Key Mobile Internet Related Considerations:
MAX BR1 Mini (HW3) is a completely redesigned version with several important upgrades for a modest $50 price increase.
The new BR1 Mini does not, unfortunately, come with new modem options which are still limited to low-end Cat-4 and Cat-6 versions.
Most mobile internet users will likely want a device with better cellular modems, but the redesigned BR1 Mini can work for those with more basic needs.
For more information:
Related Content at the Mobile Internet Resource Center:
Related Updates: