A new reseller is launching a data only prepaid plan that might be a decent option for those wanting a Sprint option on board.
With Charge, you can get a free SIM card and pre-purchase Sprint LTE data at $15/GB, or $13/GB if you purchase more then 3GB at a time. The data never expires, there are no contracts involved and the data is able to be tethered for sharing with laptops and other devices.
And for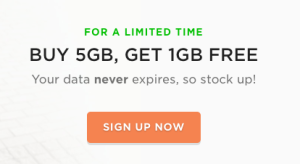 a limited time, they are offering a free GB with a 5GB purchase.
While the offering is similar to the Karma Refuel plan (which is also non-expiring data), this new plan does not require the purchase a proprietary $149 hotspot device.
With Charge, you can use the SIM card in any Sprint LTE compatible unlocked device - a mobile hotspot, a phone or a tablet. If you insert the card into a smartphone, you get a data only plan without voice or texts messages - making this is a unique data-only smartphone plan.
This seems like a very flexible option for having Sprint on board - which may be appealing to RVers who just want the carrier in their arsenal. Sprint, overall, has the weakest coverage map nationwide and generally only useful in urban areas.
June 2016 Update: Charge has made some slight adjustments to their plans. Data is now at a flat $13/GB regardless of how much you purchase, and it never expires as long as you maintain a $3/month minimum data only account with them.
More Information:
The Four Major US Carriers – Which is Best for RVers?