The latest versions (5.6.0 and 5.6.1) of Hulu's popular iOS streaming app brought several unwelcome changes for digital nomads.
The newest version of the app dropped support for HDMI mirroring via Apple's Lightning HDMI connector.
Additionally, mirroring via Airplay now only works with the 4th generation Apple TV. Previously the app worked with 2nd and 3rd generation Apple TV's.
Hulu also removed the picture-in-picture feature from the iOS app.
Mobile Internet Users Most Affected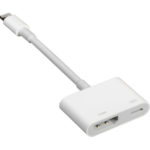 Mirroring TV content is a staple method for nomads to watch TV on a bigger screen, without using precious hotspotted data to do so. With many current unlimited plans capping hotspotted data, Hulu's latest move is not welcomed by most.
As explained in our guide on mobile TV and Movie Entertainment, Apple's Lightning HMDI connector is a great way to connect an iOS device to a larger screen for easy viewing (see our review here!), particularly for those with wireless plans that include unlimited on-device data or video streaming.
Hulu's new restriction makes it a less attractive TV option for many nomads, since it limits the ability to take advantage of on-device data benefits that come with many wireless plans.
Negative Reception
These changes were not detailed in the app change notes, which caught many users off guard.
A stream of 1-star reviews in the Apple Store and complaints on the @Hulu_Support Twitter feed highlighted the negative reception.
Hulu offered no explanation for the changes but in multiple responses to complaints on Twitter Hulu customer support promised to send feedback to their developers.
This tweet is a typical Hulu response from the past few days:
We don't have any news in this regard, but we'll continue to share your interest in seeing this feature re-added!

— Hulu Support (@hulu_support) September 13, 2017
Will Hulu reverse course?
Based on Hulu's official communications it's not clear if or when Hulu will add these features back to the app, but a failure to reverse course will likely cost Hulu subscribers.