Mobile Internet while Moochdocking
Getting internet access while staying on someone's property has some unique challenges and options.
Many RVers' and Cruisers' favorite places to stay are parked or docked on a friend's property - this is generally called driveway surfing or moochdocking.
It's a great way to be close to loved ones, share a unique experience of community, and save on the costs of a campground. There are even organizations like Boondockers Welcome that help match up RVers and potential moochdocking hosts in their travels.
Here are some considerations for internet access when moochdocking.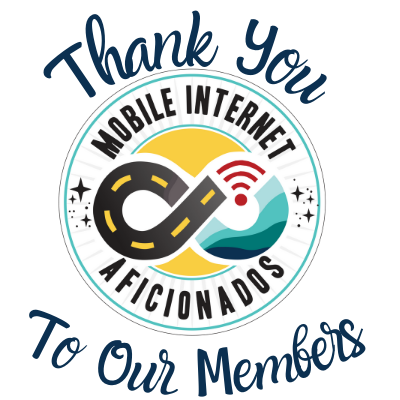 If you're a member, please log in above to access the exclusive portions of our content.
It is with huge gratitude to our members & supporters for making the free content on our site possible. We're not sponsored, you'll find no 3rd party ads and we don't sell 'stuff'.
Our members get exclusive access to our in-depth content, classrooms, vendor discounts (that can save you more than membership!), alerts, insider info and interactive guidance.
If mobile internet is an important part of your lifestyle, consider helping make MIRC possible. 
---
Using Your Typical Mobile Internet Arsenal
The most basic option for getting internet access would be to use your typical mobile internet arsenal, whether it be cellular, Wi-Fi, or satellite.
Cellular

Using your cellular setup is probably the simplest and easiest option to utilize while moochdocking. Similar to a campground, you'll want to determine what the cellular strength is at the location where you're planning on staying before you arrive. There are a few different options for doing this, such as:
Checking the coverage area for whichever provider you're using by looking at their website.
Using our Coverage? app (the carriers' maps in your pocket!)
Checking reports on review sites that incorporate crowd-sourced cell signal reports, like Open Signal.
You'll also have the added advantage of being able to ask your host for information on what cellular carriers work best in the area before you arrive, but it's still worth doing the research on your own as well.
For more information on researching signal strength and testing speeds:

Travel Planning Around Connectivity for RVers and Cruisers
Once you're at the location, you'll quickly be able to determine how good of a cellular signal you have. If you have a solid cellular signal, you can likely just keep surfing as normal.
But if the cellular signal is weak, then you might need to pull out your cellular enhancing equipment, such as a booster or antenna.
Both boosters and antennas can be effective, but it can vary greatly from location to location which one will work best. Be sure to experiment with all of your existing options.
If you'll be sticking around awhile at this location and your existing gear doesn't quite cut it, you may need to optimize for that location by either purchasing additional gear, or consider other alternatives.
For more information on enhancing cellular signals:
Starlink / Satellite

If you're using Starlink or another satellite internet service, the same advice would apply as far as researching in advance the strength of the signal you'll have at your moochdocking location.
Starlink requires a clear line of sight in order to connect, and traditional satellite internet providers need an unobstructed view of the southern sky in order to have the best chance at picking up a usable signal. These may not be things you're able to determine until you get to your location and see your parking options.
If you are using of Starlink's mobile service plans, or possibly Residential, you'll want to research in advance if there will be any open capacity at the address you will be staying- this may give you an idea of the service you may expect.
Traditional satellite also does not serve every corner of the country, particularly if staying in Alaska, Canada, or Mexico.
For more information on using Starlink or other mobile satellite options:

Starlink Satellite Internet For Mobile RV And Boat Use

Mobile Satellite Internet & Communication Options for RVers and Boaters
Wi-Fi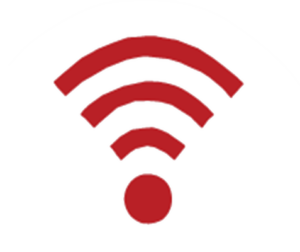 If your host has a broadband internet connection behind their Wi-Fi signal and if they're open to sharing, you can try connecting to their home network.
This option is very much dependent on the strength you can receive at your parking location. But if their signal is very strong, you may be able to take advantage of some really fast speeds from their setup just by using your existing Wi-Fi devices or equipment.
If your host has decent internet, but the signal doesn't broadcast far enough for you to take advantage of it, you may be able to improve the connection either on your end or theirs using a Wi-Fi extending device.
For more information on using Wi-Fi:

Using Wi-Fi as a Mobile Internet Source – Selecting Long Range Wi-Fi Extending Gear
(We'll delve into options for using your host's home network further in the next section.)
---
Using the Home Network of Your Host
Borrowing a cup of bandwidth from a home host is one of the places where using Wi-Fi as an internet source can be a great option.
Their networks will rarely be saturated and they should be secure. Since home internet typically doesn't have any data caps, this would be a great time to do any high-bandwidth activity, like system updates or downloading movies.
However, most home networks are not optimized for shooting a signal outside to accommodate a RVing or boating guest. So you may not be able to reach the signal from where you are parked.
Improve Your Line of Sight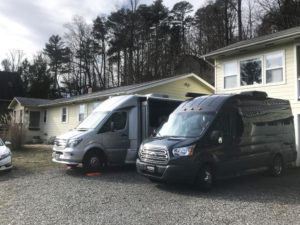 With wireless signals, line of sight and distance is ultra important.
The closer you are to the source connection, and the fewer obstacles in between their wireless router and you, the better your chances for getting a usable signal.
If you are able to park right next to your host's home this may be enough to optimize the connection.
But if you have parked some distance from the source connection, or if there are trees or other obstacles in the line of sight path - your connection may not be very strong. Keep in mind that while you may be parked close to the house, their wireless router may be on the other side of the building or the signal may be impacted by the walls of their house.
To optimize your chances of getting a usable connection, put whatever gear you are trying to connect within as clear of a line of sight towards the home as possible. This might be in a window of your RV that is facing the home.
Wi-Fi Extending Gear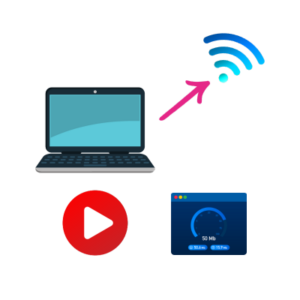 If you're getting a faint signal at your mobile dwelling, but it's not strong enough to be usable, then Wi-Fi extending gear might be able to help you improve the signal. Before you invest time and money in purchasing or installing extra gear, find out if the connection you're trying to connect to is actually worth the effort.
We call this the "Worthiness Test":
Take your laptop, phone, or tablet up as close to the exterior wall of the house within sight of your RV.
Run some speed tests (Our guide: Testing Internet Speeds & Performance)
Try out some typical web surfing.
Try streaming some video.
If the experience is a good one, then using long-range Wi-Fi extending gear may help bring that experience back to your mobile home.
For more information on Wi-Fi extending gear:

Using Wi-Fi as a Mobile Internet Source – Selecting Long Range Wi-Fi Extending Gear
If the signal at the exterior wall isn't great or usable, you're going to have to get more creative in bringing their network closer to you.
Run a Physical Wired Connection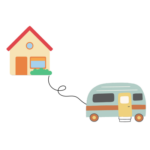 If you're just parked too far away from your host's router to get a usable signal - you can try running a physical cable from their place to yours. This would eliminate loss of speed or signal interference that often comes from using a wireless connection.
A long ethernet cable is an option if you are close enough - ethernet cables can be up to 100m (328 feet!) long. But if you are plugged into a different power system than the home router, there could be electrical issues.
To be immune to those potential electrical issues, another option would be to use fiber optic cables, which allow for distances of 20km (~65,000feet!) or more.
A basic Ethernet to fiber converter can cost less than $40 (you will need one at each end), and then you can buy the fiber cable in pre-cut length or special order exactly what you need.
Examples of the types of equipment you need for this are:
Converter: TP-Link Gigabit Ethernet Media Converter
Cable: Fiber Patch Indoor/Outdoor Cable
Aside from the physical wire, you will also need a router on your end that can accept ethernet in, so you can do something with the connection coming in over the wire.
If you are purchasing a router just for this use, it can be any residential router. If you want something that fits into a mobile internet arsenal that is more versatile, consider a mobile router that can utilize cellular and Wi-Fi inputs too.
For more information on Mobile Routers:
Access Points & Extenders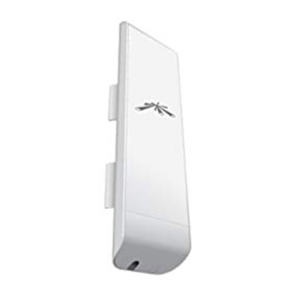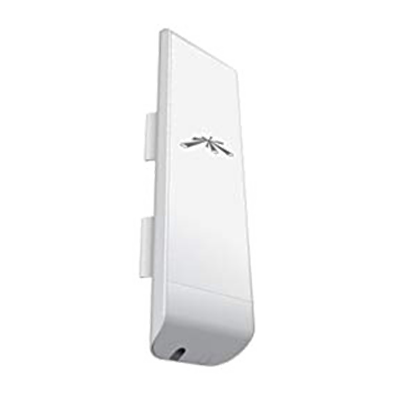 If running a cable isn't practical at this location, then another option is adding in some gear in-between the host's router and your location to help better share their connection with where you are parked.
This could be as simple as experimenting with installing a wireless travel repeater that physically sits somewhere between their router and your location. These can be quite affordable and are commonly found in local electronics stores or online. Having one on board might be worthwhile if this style of stay will be common for you.
But keep in mind - it might be tricky to find a place mid-way between your devices and their indoor router that is protected from the elements and has electrical power. These basic extenders are normally used to get signal to a far room in a house, not outdoors!
If you're trying to bridge a longer distance and you're sticking around a while, you and your host might want to work together to install a dedicated access point, just like you would find for sharing the network at a campground or a marina.
This is different than a repeater or range extender – you will be configuring another wired device on their network that broadcasts a more powerful Wi-Fi signal for your use, typically using professional-grade (but still surprisingly affordable) equipment.
This initial setup is a bit complex and will require some networking knowledge. But once it is set up, all future visitors will have great outdoor guest Wi-Fi to tap into!
Consider your installation options and placement carefully - such as placing the transmitting access point in a visible window, or even installing it outside.
You may need to do some analysis to find the optimal placement - but with a professional access point installed on the side of a house, you can share the home's internet across a large yard, or even further!
Temporary Office Inside The Home
Sometimes the easiest thing when moochdocking is to ask your host if you can set up inside their home for your major computing needs. If they have a dedicated space you can use in their house, or even just a kitchen table, connecting to their internet source from there will be that much easier.
And if your host is really awesome, this option might come with free perks like a meal or snack as well!
Don't be afraid to also bring something in to share - especially as the workday transitions into happy hour time.
Considerations for Moochdocking Without Utilizing a Power Source (Boondocking!)
If you'll be moochdocking without borrowing power from your host, you'll want to consider sourcing power for your mobile internet arsenal - whichever method of connectivity you decide to use.
We have created a guide that includes information on power concerns when it comes to boondocking (living off the grid, while mobile!)
Guide to Mobile Internet While Boondocking
---
Tips for Hosts
If you're gearing up to be a host to the nomadic moochdocking set, and want to provide access to your home network, here are some tips to help make your guests' stay run smoothly.
Test out the strength of both the cellular and wireless signals in the location where you are planning to have your guests settle in. If you have multiple options, test the signal in each location to see if one location has better signal options than the other.
If your home Wi-Fi signal doesn't extend to where you want your guests to park, and if you're planning to have guests that stay for a long time or frequently, consider installing an access point as discussed above.
Create a guest network on your network. You can do this via the admin settings on your router, ensuring that you're not compromising your own local area network.
If you have room in your house and your guests need an internet connection for work, consider setting up a room or corner in your house where they can work for a few hours each day.
If you'll be hosting a lot of visitors, consider having a welcome sheet made up that includes basic information - including cell signal in your area, and your network ID and password.
---
Summary
Moochdocking with friends, family, or a welcoming host can be a really awesome experience, especially if you can have a usable internet connection while doing so. Moochdocking is often a cost-effective way to visit with friends or family, or to plop down somewhere that provides accessibility to an area that may not typically serve the nomadic dwelling population.
Moochdocking also tends to provide more novel internet access choices - which can often be taken advantage of fairly easily and with great results.
Explore the Resource Center
Join our 'Library Desk':
Internet for RVers & Cruisers Facebook Group
We cross post news articles and guides, and can help point you in the right direction to our content here on the resource center.
It is with gratitude to our premium members that we're able to offer our free content - and for that, they also have access our private Q&A areas for more in-depth guidance.
The MIA is our premium membership - designed for those who consider mobile internet an important part of their lifestyle.
In thanks for making content like this possible, we offer a bunch of additional perks. From interactive guidance, in-depth member exclusive content, discounts, alerts, classroom and more. 
We totally understand that a membership isn't right for everyone.
However you can still support this content with our supporter level for just $25/year. 
With our gratitude, you'll get access to all our free content without the 'nags'. 

Stay In the Know
We're constantly tracking the industry and analyzing new developments for mobile travelers. If you'd like to receive updates, we offer several ways: