We spent the month of September 2014 at Oregon's scenic Cape Blanco State Park as volunteer lighthouse tour guides.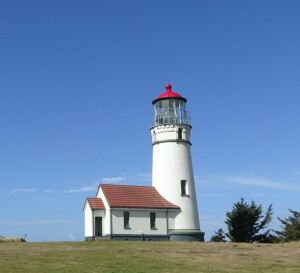 It is one of our favorite places on the entire Pacific Coast. Incredible scenery, great private campsites, and an absolutely magical lighthouse.
But... There is not much at all in the way of cellular signal here, particularly back in the heavily treed campground area.
In other words - the perfect place for our next round of in-depth cellular booster testing!
While here, we have been putting our full collection of onboard boosters through their paces. We tested both of our old boosters which predate the new FCC certification requirements and two new 2014 model FCC-approved boosters.
Here is what we tested:
Wilson Sleek 4G-Verizon — Tri band cradle-style booster, with Verizon LTE and AT&T 4G HSPA+ support.
Top-Signal 55 — Dual band, boosting most pre-LTE signals. 55dB maximum gain
Wilson Mobile 4G (same as the weBoost 4G-M) — New five band booster, with support for multiple devices at once on Verizon, AT&T, or T-Mobile LTE. 50dB maximum gain. Price point: $350
Wilson Sleek 4G (same as the weBoost 4G-S) — new five band cradle-style booster, supports a single device at a time and LTE on Verizon, AT&T, or T-Mobile. 23dB maximum gain. Price point: $150
All of the above equipment was provided for testing courtesy of Powerful Signal.
For a list of current 4G Mobile Boosters on the market:
Comparison: Mobile 4G Cellular Boosters (weBoost, SolidRF, MAX-AMP, SureCall)
In this round of testing, we set out to answer questions like:
Is there any reason to upgrade from the older Sleek 4G to the new 2014 model?
Does the Mobile 4G have enough advantages over the Sleek 4G to justify over twice the price?
Are the older boosters hopelessly obsolete now, or are they still worth keeping around?
Read on to find out!
We tested every booster using its stock provided inside and outside antennas, all installed identically onto the bus with the outside antenna mounted to our roof, and the inside antenna in our tech cabinet.
We tested the following connection scenarios:
Outside, on our camp site picnic table.
Inside the tech cabinet in our bus (with no booster).
Inside the tech cabinet with the various boosters tried in turn.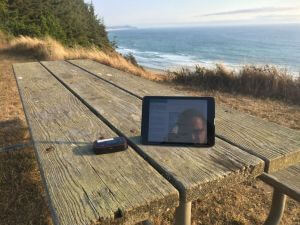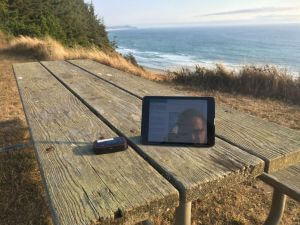 We also tested at the bluff down the road from the campground that has a clearer line-of-sight view of the town down the coast - an area we have come to call the "Cape Blanco Phone Booth" because so many campers walk down here to make phone calls and check emails.
All the speed test results reported here are representative, averaged over several tests. If test results were oddly inconsistent from test to test, that is noted.
The order in each category is ranked by measured signal strength, in dBm, from strongest to weakest. Remember - the lower the dBm number, the stronger the signal. But pay attention to the tested speeds - signal alone isn't everything!
This in-depth guide is part of our exclusive offerings for our premium members. The rest of the article is available to members who are logged in. Please log in below, or join our
Mobile Internet Aficionados
if you've not already.
You can learn more about joining our premium membership group - Mobile Internet Aficionados to get in-depth reports like this one, product reviews, newsletter just for RVing mobile internet consumers, private Q&A forums, interactive video sessions, and more.
Thank you for helping us keep unbiased by being funded by our readers and members.
Explore the Resource Center
Join our 'Library Desk':
Internet for RVers & Cruisers Facebook Group
We cross post news articles and guides, and can help point you in the right direction to our content here on the resource center.
It is with gratitude to our premium members that we're able to offer our free content - and for that, they also have access our private Q&A areas for more in-depth guidance.
The MIA is our premium membership - designed for those who consider mobile internet an important part of their lifestyle.
In thanks for making content like this possible, we offer a bunch of additional perks. From interactive guidance, in-depth member exclusive content, discounts, alerts, classroom and more. 
We totally understand that a membership isn't right for everyone.
However you can still support this content with our supporter level for just $25/year. 
With our gratitude, you'll get access to all our free content without the 'nags'. 

Stay In the Know
We're constantly tracking the industry and analyzing new developments for mobile travelers. If you'd like to receive updates, we offer several ways: