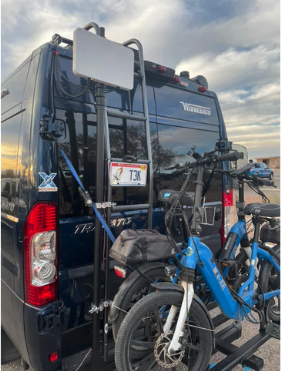 MobileMustHave has developed this compact, strong, and portable fiberglass telescoping antenna mounting pole.
This 4-section fiberglass telescoping pole is approximately 67" in length when collapsed, and extends to 20 feet when fully extended.
The mast features weather and corrosion-resistant hardware with aluminum or stainless fasters. The optional ladder and suction mounts are made of aluminum, and are also weather resistant making them well suited for mobile applications.
This is a new product - and supplies are limited. Please contact MobileMustHave for availability and ordering.
Specifications
Material: Fiberglass
Length: 67" closed, 20' full extended
Base Outer Diameter: 1.81"
Top Section Outer Diameter: 1.4"
Weight Capacity: Up to 5 lbs
Retail Price: $159
News, Videos, & Status
Related News Articles:
This Review Contains Additional Member Exclusive Content!
We are Honored to be Member Funded!
No ads, no sponsors, no selling (but may contain affiliate links)
Our members fund our in-depth independent reviews.
This entry may contain additional member exclusive content such as testing notes, field testing data, user interface tours, comparisons to alternatives, analysis, tips, videos and discounts.
Members also get interactive guidance, alerts, classroom and more. 
Purchasing Options
Purchasing Links & Disclaimer
We don't sell stuff, we are primarily member funded. Some links below may be affiliate links (see our disclaimer), which also helps fund MIRC.
The vendors displayed below provide larger discounts to our MIAs that we have negotiated instead of displaying affiliate links while they are logged in.
MIA Discounts - Learn & Save!
Our Mobile Internet Aficionados (MIA) get special discounts from the below vendors. Members please check for discount codes before ordering. With savings up to 11% off, you could save more than your membership cost!
Affiliate vendor links - using these links helps support MIRC's mission (MIAs, please log in to get special discounts):