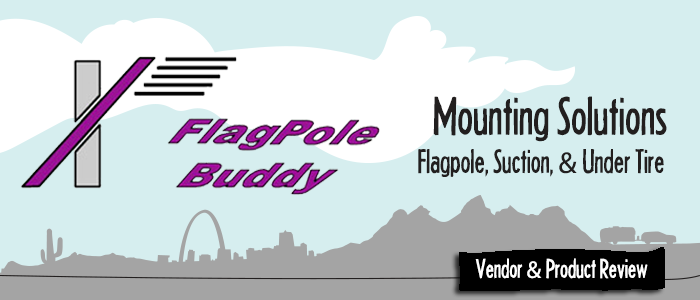 Flag Pole Buddy is small company run by a couple of RVers, which specializes in RV mounting solutions. Founded in 2004, they have partnered with CampingWorld to provide their product to a wider base of RVers.
Flag Pole Buddy designs, produces, and sells their own products.
They currently offer three types of mounts which can be used for mounting antennas (although they were originally intended to mount flags):
Flag Pole Mount: These mounts attach to typically sized RV ladders (~ 1'' diameter). The mounts come in three sizes - 1.0, 1.5 & 2.0. These sizes represent the diameter of flag pole (or antenna) to be used in them - not the diameter of the ladder. Mounts are made of black fiberglass nylon.
Suction Mount: These suction mounts hold a flagpole (or antenna!) to a smooth surface. The 6" suction cups have a built in vacuum pump and attach to standard FlagPole Buddy mounts (which come in 1.0, 1.5, & 2.0 sizes). These mounts are not permanent - the push button pump has a visual red line to let you know when vacuum is secure and release tabs for easy removal. The rubber cup comes with a plastic protective cover for storage.
Under the Tire Mount (UTM): A mount that slides under a tire, allowing you to put up a flag pole (or antenna attached to a flag pole)) without moving your vehicle. This UTM uses a "V" shape and slides under the tire while parked.
Related News Articles:
The Rest of this Review is:
Member Only Content
We are thrilled & honored to be primarily member & reader funded - allowing us to present unbiased content. The in-depth review section of this product listing is part of the premium membership benefits of joining. Members can also leave their own reviews on products.
If you're a member, please log in above to read the in-depth review for this product and/or leave your own review. If you've not joined yet, learn more about membership at:
Purchasing Options
Flag Pole Buddy Ratings
Quick Take
Flag Pole Buddy makes and sells mounting solutions for RVs, which can be used to mount antennas.
Comments Rating
( reviews)