In reaction to Verizon's rollout of the new 'The Verizon Plan' that replaces their outgoing 'More Everything' plans - AT&T today has launched new pricing and a simplification of its own plans.
Amongst the new data pricing is a limited time offer (with an undisclosed expiration date) of 15GB for $100, which is 50% more data than AT&T's previous 10GB plan at the same price.


Verizon and AT&T aren't making it easy to directly cross compare plan pricing - with different data tiers that do not directly overlap.
To make it easier - we've created this handy table that shows AT&T and Verizon's new data pricing side by side, including the cost per gigabyte at each level: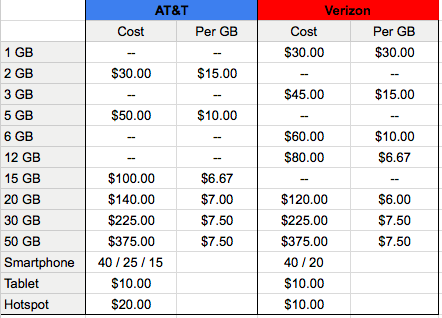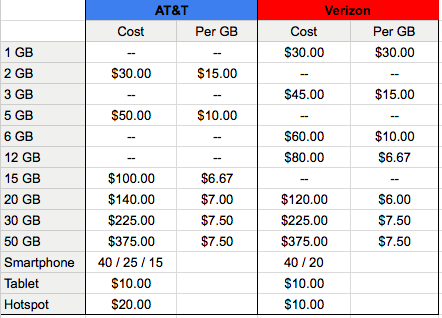 Unlike Verizon, AT&T has not changed the pricing for line access fees for smartphones and tablets.
As before, if you have a 2-year contract on a subsidized phone that has not been completed, you pay $40 per smartphone.
If you bring your own device, are out of contract, have a contract that started prior to March 2014, or use the Next installment plan to finance the device - then you qualify for discounted access fees. On plans of 5GB or less, the fee is $25/month per smartphone, and for larger plans the fee is $15/month.
AT&T's mobile hotspot fee remains $20/month, whereas Verizon has just dropped the cost to be the same as their tablet plans at $10/month.
AT&T's plans however include some additional features that Verizon is not matching that do make the plans worth taking a further look at:
All AT&T plans included Rollover Data - data that you don't use this month rolls over to the next month. Rollover data expires after just one month though, unlike on T-Mobile.
All AT&T plans with 15GB and more include Unlimited Talk & Text to Mexico and Canada.
AT&T's new pricing is effectively immediately, and is already online.
Existing customers can keep their current plans if they wish, or can switch if the new plans work better for them. Customers on the old 10GB plan should certainly contact AT&T to switch to 15GB for the same price.
Obviously, those who were lucky enough to snag a double data deal before they expired in February have a much better plan though than anything currently on offer, and are smart not to switch.
AT&T is not matching the other big move that Verizon made - getting rid of contracts for new accounts.
Earlier this summer, AT&T started moving away from 2-year contracts by no longer offering them in many affiliated AT&T retail locations, however subsidized phones and contracts continue to be an option in AT&T corporate stores.
More information: