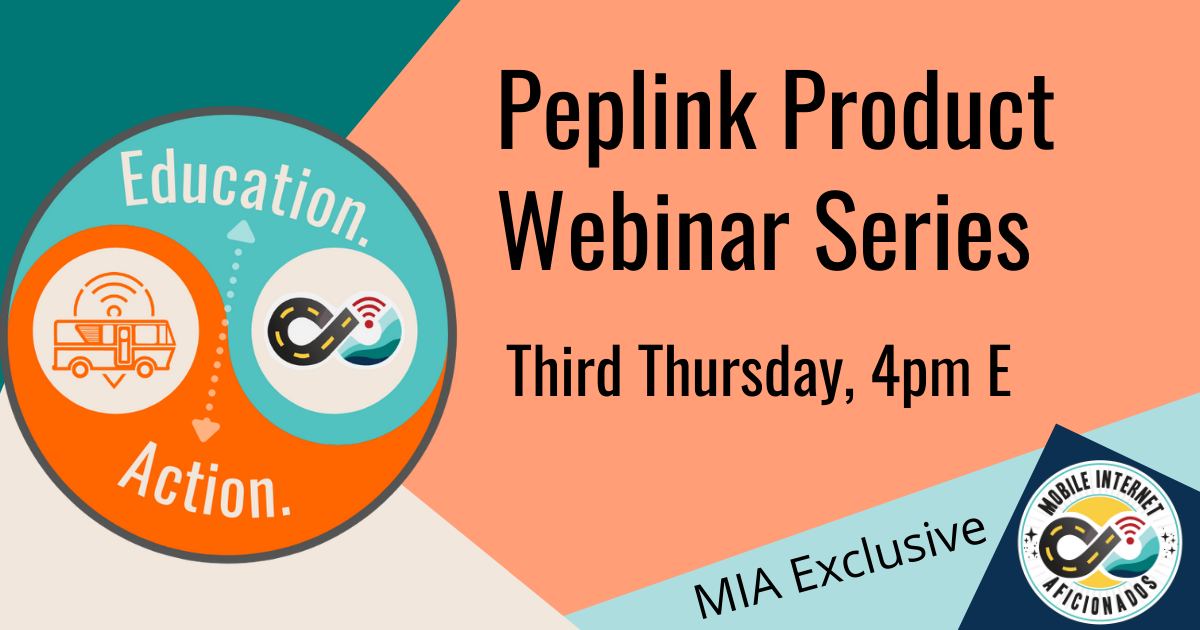 Monthly Pepwave Product Webinar Series: Co-hosted with our friends at MobileMustHave.com, every month for our premium MIA Members exclusively.
This series will feature a casual educational presentation about a Peplink product or configuration, and then open to member questions for interactive education. These are not sales focused, but meant to be educational for current or future Pepwave product owners.
We strive to host these member exclusive webinars on the THIRD THURSDAY of every month at 4pm Eastern - so put it on your calendar! However THIS session will actually be on the FOURTH Thursday due to the Escapade event we'll be at.
This month's Topic: General Q&A & Geek Out
This month both Erik of MobileMustHave.com and Chris & Cherie of MIRC will be attending the Escapee's Escapade in TN - so we have moved this webinar a week off our normal schedule. We will be broadcasting this session in person together from the Escapade, and might even host an in person meetup/happy hour for any MIAs who are also attending (stay tuned for an announcement).
Since we'll be in 'event mode' - we're not planning a topical session. But will be happy to address any Peplink related questions, and we may even have some new upcoming Peplink gear in hand to show off (we hope.. no promises!).
The time displayed may be adjusted for the time zone your browser thinks you're in, so be sure adjust for the time zone you'll be in for the actual session.
Please note: These webinars will be archived for viewing later in our Member Exclusive Video Library and when appropriate, might become part of our our more advanced Pepwave Product Content.