Optimizing Data Use for Social Media
The nomadic lifestyle, whether in an RV, boat, or some other conveyance, goes hand-in-hand with social media. For many nomads, social media is the best way to stay connected with friends and family and the easiest way to share all of those beautiful travel pictures. But the downside is that it can use a lot of precious mobile internet data.
As the internet becomes more and more media-rich with video and high definition graphics, social media platforms are consuming even more data, which can impact mobile internet users.
This guide will show you how to set up different social media platforms to use the minimal amount of data, and to give you guidance on which platforms to use caution with when using mobile internet WiFi sources like mobile hotspots.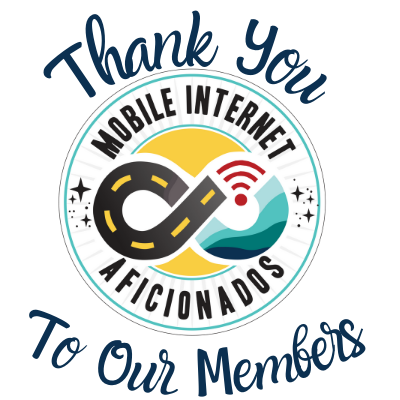 If you're a member, please log in above to access the exclusive portions of our content.
We are honored to be able to present a bunch of our content for free.
Our resource center is brought to you by funding from our premium members. We don't accept 3rd Party Advertising, we're not sponsored and we don't sell stuff.
Our members have exclusive access to in-depth content, classrooms, discounts, alerts, insider info and interactive guidance.
If mobile internet is an important part of your lifestyle, you can help make this possible:
---
Overview
Social media platforms are ever-changing beasts, and new ones start up all the time. This guide will give you some tips and tricks for the most popular platforms, aimed to help those of us who rely on capped, restricted or limited mobile bandwidth.
Thankfully each service provides a way to reduce data usage by providing options for different kinds of content. However, you typically have to manually override default settings and some of the settings do not apply when using Wi-Fi, as the services assume those sources are always unlimited. This is not necessarily true for nomads.
---
General Tips
For social media platforms and websites that you use regularly, check your account settings to see if there are options for reducing the amount of bandwidth they use. Many sites and apps today have options to reduce data use, particularly for big data items like pictures and video.
Platforms that auto-play video are the biggest culprits.
There are also extensions and add-ons for web browsers like Chrome and Firefox that can reduce data either by blocking content or disabling auto-play on websites. Search the various web stores to find an extension or add-on that will reduce your data.
We don't track individual browser add-ons and extensions in the guide because they depend on which browser you use, but here are links to add-ons for the four most popular browsers:
For tips on reducing data consumption on video streaming services like YouTube, Netflix and more, please see our comprehensive guide:
---
Facebook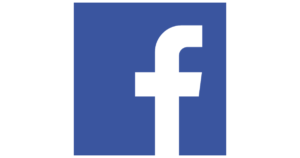 In addition to being a fantastic time-suck for many, Facebook can also a big mobile data hog. Most data use with Facebook comes from displaying photos and videos. By default, Facebook will autoplay any videos shown on your timeline - whether you want to view them or not.
Fortunately, Facebook provides options to reduce the amount of data used.
Facebook Website
The Facebook website only offers options for reducing video quality - it does not offer the same option for image quality (it does offer this option on its mobile app). So if you are surfing Facebook on your computer there may not be any way to reduce data from images.
To access the video settings, click on the upside-down triangle on the top right side of your screen. Then click "Settings & Privacy." Once that window opens, click "Settings."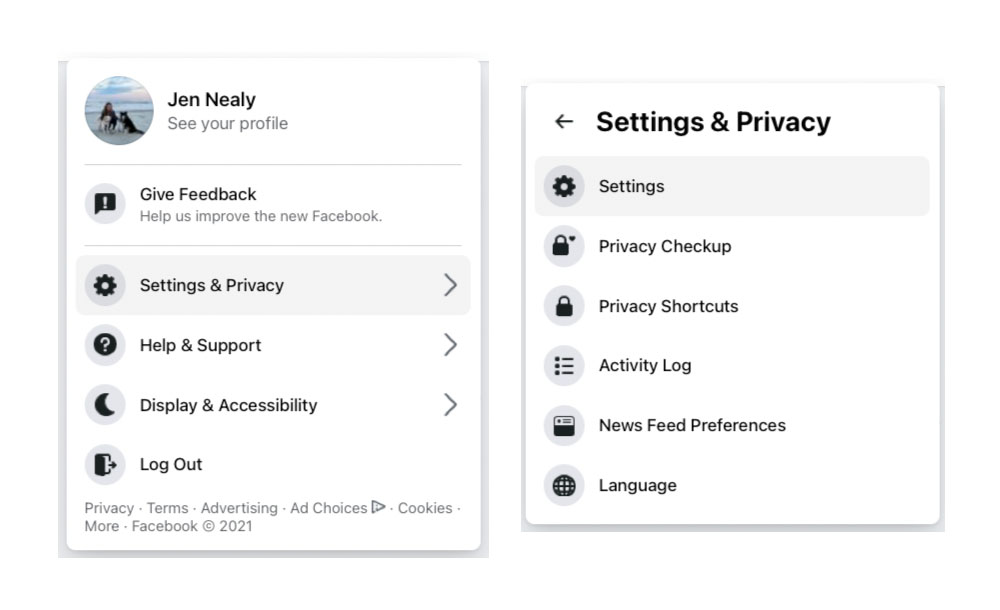 Next, click on "Videos" at the bottom of the menu on the left side of your screen. These are the settings options for videos: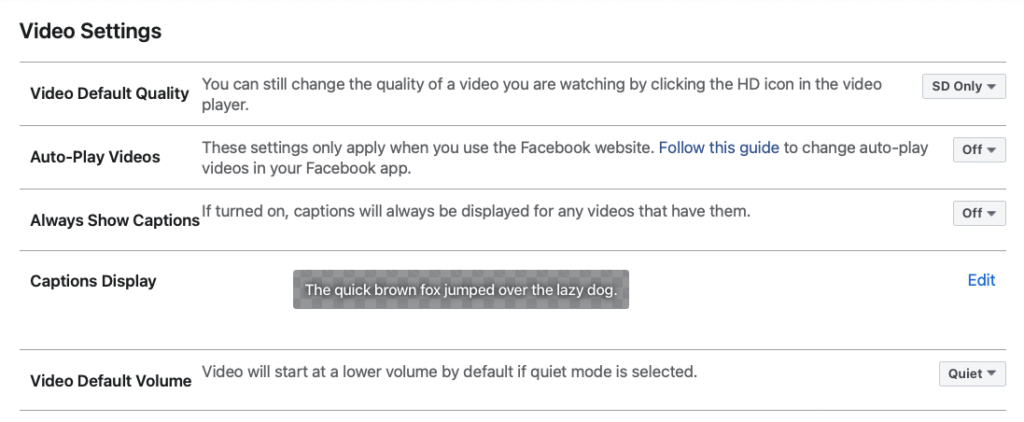 Here are the useful options in this menu:
Video Default Quality - "SD Only" is the option that will use the least amount of data and it is the option we recommend for mobile data users. The other options are "default" and "HD if available."
Auto-Play Videos - "Default", "On" and "Off" are the options. We recommend turning this setting to "Off."
The other video options here don't have a significant impact on data use - set them to your personal preference.
Facebook iOS App
The Facebook iOS app provides some limited options for controlling data - it can disable autoplay of videos and limit the size of photos uploaded from your device to Facebook.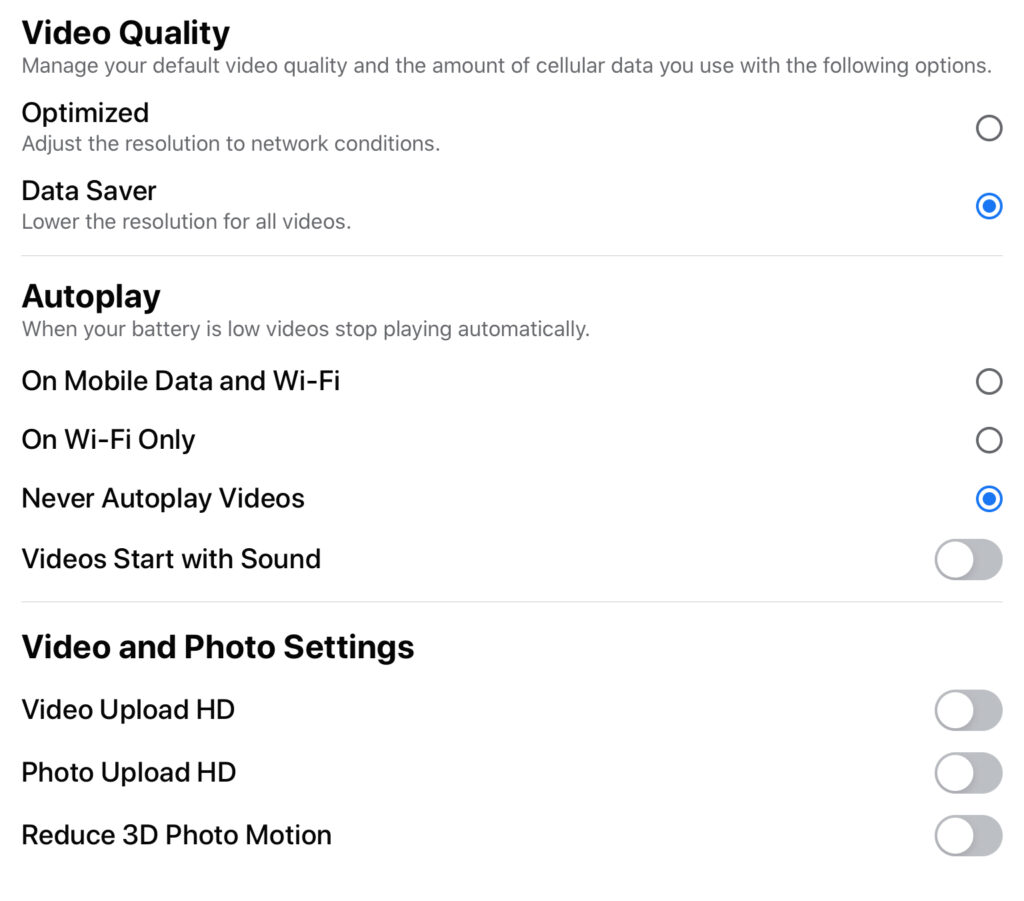 To access the options:
Tap on the "Menu" icon in the lower right-hand corner of the screen.
Scroll all the way down to almost the bottom of the menu and select "Settings and Privacy."
Select "Settings,"then select "Profile Settings."
Scroll down to "Media and Contacts", then select "Videos and Photos."
Under Video Quality, select "Data Saver." This lowers the resolution for videos.
Under Autoplay, you'll have three options:

On Mobile Data and Wi-Fi: This option will turn on autoplay for any type of connection you are using.
On Wi-Fi Only: Videos will only autoplay when the phone is connected to a Wi-Fi source - this includes cellular-data Wi-Fi sources like mobile hotspots.
Never Autoplay Videos: Turns off autoplay - our recommended setting to maximize data savings.

Under Photo Settings, turn off uploading in HD - unless you want to post full-resolution photos from your mobile device to your Facebook account.
In addition to these settings, you can turn off cellular data completely for Facebook in the iOS general settings:
Open the Settings app.
Scroll down and select Facebook.
Useful options to consider changing:

Siri & Search: Disabling Siri can save a small amount of data when doing searches, but probably not enough to be too concerned about.
Background App Refresh: Turning off can save some data by preventing the app from refreshing content in the background.
Cellular Data: Turning this off will prevent Facebook from using your phone's cellular data.
Facebook Android App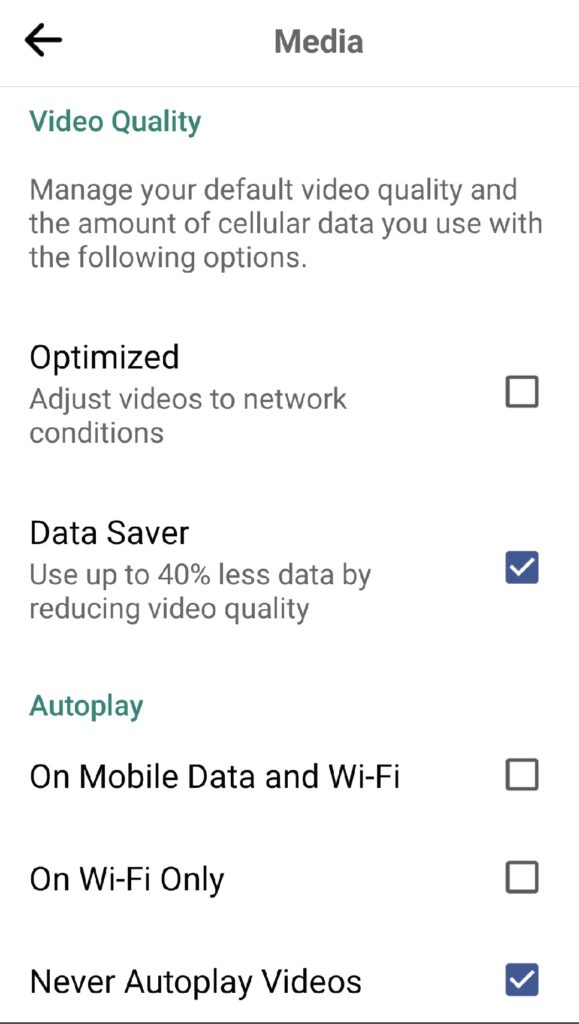 Android users have a few more data-controlling options than iOS users.
To access the data saving options:
Tap on the Menu tab on the top right side of the screen (it is represented by 3 parallel lines).
Scroll down to the "Settings and Privacy" section.
Select "Settings"
Scroll down and select "Media" under the Preferences section.
There are several options here you can change:

Under Video Quality, select "Data Saver".
Under Autoplay, select "Never Autopay Videos".

On Mobile Data and WiFi Connections: This option will turn on autoplay.
On WiFi Connections Only: Videos will only autoplay when the phone is connected to a WiFi source - this includes cellular-data WiFi sources like mobile hotspots.
Never Autoplay Videos: Turns off autoplay - our recommended setting to maximize data savings.
Facebook Lite App
Android and iOS users can download and use a "lite" version of the Facebook app, which is a watered-down version of the app designed for older hardware and very slow mobile networks.
This app is not for everyone, but it is a good option to save data since it was designed to work with extremely slow data connections. It could also be a good option for those in an area with poor data speeds.
---
Member Exclusive Content In This Guide
Has this guide been helpful so far?
Well.. there's a lot more below available to our members. As well as dozens of other guides like this, videos, classrooms, forums, webinars and more. All specifically created for helping keep RVers, cruisers and nomads online.
Consider Becoming a Member
If mobile internet is an important part of your lifestyle, a membership can help keep you connected with these exclusive benefits:
in-depth exclusive content
interactive guidance
vendor discounts
alerts & insider tips
classroom
community
Free Content Like This Made Possible By Our Members!
We are community funded via our premium membership program - allowing us to focus on creating unbiased quality, in-depth, constantly updated content. We don't accept 3rd party advertising, we're not sponsored and we don't sell 'stuff'.
Already a member?
Log in to continue with this guide.
Check out the Topics Covered in the Member Section:
In our member section we also discuss data saving tips for these additional social media platforms:
Twitter
Instagram
TikTok
---
Summary: Stay Socially Connected Without Using All of your Data
Social Media is an important part of many nomadic lifestyles, but the platforms can burn through a lot of data.
Adjusting the data settings on social media platforms can help you to continue to post pictures and watch videos of all the awesome places you and your friends have visited, without worrying about using up all of your data.
Additional Reading
Related Guides:
Explore the Resource Center
Join our 'Library Desk':
Internet for RVers & Cruisers Facebook Group
We cross post news articles and guides, and can help point you in the right direction to our content here on the resource center.
It is with gratitude to our premium members that we're able to offer our free content - and for that, they also have access our private Q&A areas for more in-depth guidance.
The MIA is our premium membership - designed for those who consider mobile internet an important part of their lifestyle.
In thanks for making content like this possible, we offer a bunch of additional perks. From interactive guidance, in-depth member exclusive content, discounts, alerts, classroom and more.
We totally understand that a membership isn't right for everyone.
However you can still support this content with our supporter level for just $25/year.
With our gratitude, you'll get access to all our free content without the 'nags'.

Stay In the Know
We're constantly tracking the industry and analyzing new developments for mobile travelers. If you'd like to receive updates, we offer several ways: