The Great Loop is an amazing adventure by boat: circumnavigating the eastern half of the US and Canada by waterways. Fortunately, keeping connected over mobile internet using options like cellular, Wi-Fi, and satellite is entirely possible.
Traversing the Intercoastal Waterways (ICW), Erie Canal, Great Lakes, Mississippi River, Tennessee - Tombigbee Waterway, and around Florida can take a year or more to complete this epic 6000+ mile adventure. And while there will be many distractions - from docktails, exploring quaint towns, and never-ending boat maintenance - there will still be lots of time to kill while waiting out weather.
Whether you're looping and working remotely, or retired and wanting to keep entertained and in touch with loved ones - the mobile internet options you choose to complement your adventure will depend highly on your unique needs and your pace of travel.
The Great Loop - It's Like RVing on Water
The Great Loop (GL) is a 6000 mile loop of eastern continental North America's waterways.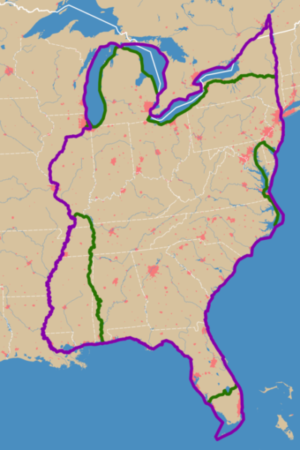 Looping will take you through 15+ states and provinces traveling along the protected/intercoastal waterways of the Atlantic Ocean, the Gulf of Mexico, Canadian or US Canals, the Great Lakes, and rivers! To quote Dr Seuss "Oh! The places you will go!"
In many ways, this adventure is like travel in an RV. You'll be passing near cities and towns, as well as traveling through or along low-population areas. You'll need to plan where you stop for the night, find places to do laundry, shop for groceries, fuel up, and stay in touch with loved ones. If you are working, you will need ways to communicate with the office and coworkers.
Even if your main purpose for travel is to disconnect and explore, there will likely be days where you will want to share your photos, do some internet banking, stream a favorite show, or download a new book (or three!).
For many RVers and cruisers alike, internet access can sometimes seem as necessary as food and fuel. How do you make sure you have the mobile internet access you need in Canada? What about in rural Mississippi? Will these solutions be the same?
Just like RVers, cruisers will need to create a suite of solutions based on their style of travel, internet needs, and intended destinations.
In this guide, we'll take you through key mobile internet concepts for Great Loopers and link you to more detailed articles on these concepts. We created this to be your guide to planning mobile internet resources when traveling the Great Loop.
Boating-specific mobile internet considerations
Pace of Looping - From the -1 year Loop to Slooping it over multiple years
Marina Wi-Fi
Cellular Options
Satellite (Starlink)
Options while cruising in Canada
This guide is currently under development, please excuse our dust. We hope to release it sometime in summer 2022.
Content Creation In Progress!
We are currently working on this article
and should have it published soon!
This resource center is primarily funded by our members, so guides like this one are their perk for helping us provide the free content on this site. Due to the depth & time involved with creating comprehensive content, the in-depth portion of this article will be offered exclusively first to our premium members.
If you are a member, please log in above,
there may be bonus preview content we've made available already.
If you're not yet a member consider becoming a Mobile Internet Aficionados (MIA).