Today AT&T quietly changed it's prepaid options, making them universally more attractive than before and more competitive with the offerings from Verizon.
Prepaid Changes
Here are the changes to AT&T's Prepaid plans:
Autopay discount increased to $10/month from $5/month for all plans except the bottom tier 1GB plan, putting it on a more equal footing with post-paid plans. This effectively reduces the prices of the two mid-tier plans.
The previous 6GB option was changed to 8GB of data for $50/month ($40 with autopay).
All plans above the bottom tier 1GB plan get text, talk and data usage in Canada and Mexico (at least 50% of usage per month must be in the US).
Hotpsot data on the top-tier unlimited plan was increased from 6BG to 10GB.
Multi-line pricing is better - the discount for the 2nd and 3rd line is now $10/month and for the 4th and 5th lines, the discount is $20/month.
A summary of the new plan options: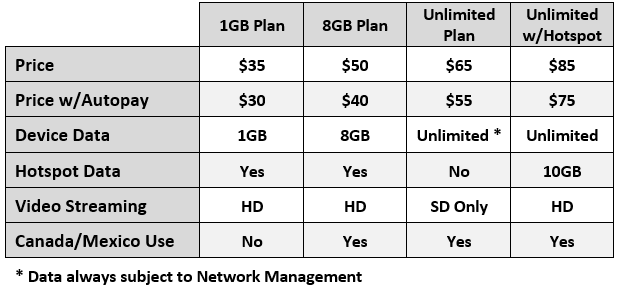 Plan Features
The prepaid plans include the following options, features, and policies:
Domestic Roaming: (unconfirmed) - AT&T Prepaid seems to include domestic roaming, and likely has similar limits to postpaid accounts.
Throttling: Direct AT&T prepaid plans experience full network speeds until the data cap (if any) is reached. Speeds are then throttled to 128kbps for the remainder of the month.
Network Management: The $65 unlimited plan is *always* subject to network management - the $85 unlimited plan is subject to network management after 22GB of data.
International: All plans except the 1GB option include unlimited voice, text & full allotment of on-device data in Mexico & Canada. AT&T may cancel your plan for using more than 50% of this service outside the US. The 10GB of hotspot data for the $85 unlimited plan is restricted to the US only.
Mobile Hotspot Use: Plans with tiered data allow mobile hotspot use. Their more expensive of two unlimited plan options include 10GB of hotspot data. Data is slowed to 128kbps once hotspot data is used up.
Standalone Hotspot: This is a smartphone only plan - there is no option to add a standalone hotspot or tablet line.
Data Roll Over: Unused data on tiered plans rolls over to the next month, as long as the account is kept active.
Overage Charges: There are no overage charges on prepaid plans. Once you use your data, service continues at throttled speeds (128kbps) until your next refill.
Streaming: No streaming services are provided with prepaid accounts and streaming always uses plan data. All plans except the $65 unlimited options come with Stream Saver which can be turned off for full HD video.
Device Lock/Unlock Policy: AT&T Prepaid devices are eligible for unlocking after 6 months of active service.
Summary
Overall, these are great changes to AT&T's prepaid plans which provide more value than comparable options from Verizon. For example, with Verizon 7GB costs $50/month and 3GB costs $40/month. With AT&T and autopay, $40/month will buy 8GB of data. The changes also bring these plans more in line with the options and features in AT&T's post-paid options.