WiFiRanger today debuted a new "flat mount" variation of the roof-mounted WiFiRanger Elite long-range WiFi capture device, addressing one of the biggest concerns we noted when the Elite debuted - it is too tall to mount safely on an RV roof without a way to retract it!
For RVers with retractable TV antennas, the Elite was designed to strap on to the TV antenna for the ride up and down. Some others mount the Elite to a rear ladder.
But for many, neither is an option. This new kit aims to solve that problem.
From WiFiRanger's announcement email:
The Elite with the Flat Mount stands 13" tall, and can be screwed down or adhered directly to the roof. The cable exits the side so it can be routed on the roof to vents or alternate routes to avoid drilling a hole for the cable entry.

This option is becoming more important, as the old style of Batwing antenna is being replaced by digital antennas that don't allow for direct mounting, and ladders are not on many RVs these days. The Flat Mount will work for anyone who doesn't have a ladder, flagpole, or batwing antenna for mounting.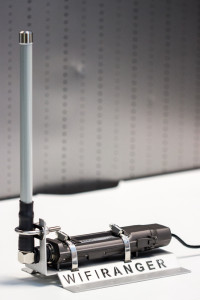 Even at 13" tall, the flat mounted Elite's rigid mast is still at risk from tree branches. Fortunately, WiFiRanger tells us that they will cover repairs from this sort of accidental damage under the Elite's three year warranty.
The new flat mount Elite variant costs $50 more than the regular Elite, and can be bought individually for $409 or bundled with an interior Go2 router for $649.
Note that the flat mounted Elite does not support the XT antenna upgrade - it would be too tall again!
WiFiRanger gave us a regular Elite to add to our testing arsenal when we visited with them at the Escapade last week, and we plan to mount it to our flagpole for testing. Look for a detailed review in the future.
BTW - you can use discount code 'WFRTechno' at checkout when ordering from WiFiRanger.com and save 5%. We don't get any kickbacks if you do... but it does let WiFiRanger know you heard about their products from us.