Starlink for RV & Boat Mobile Internet Resources
Starlink low earth orbit (LEO) satellite internet service is here, and available for use in a portable fashion for RVs and boats.
This collection of articles brings together all of our content on configuring and utilizing Starlink as part of a mobile internet solution for nomads.
This resource collection is a new feature we are working on. Please pardon our dust. We aim to debut it in Summer 2022.
Combining Starlink with Other Internet Sources: Cellular & Wi-Fi
Article Overview
While Starlink is a great source of internet for use in a portable fashion while RVing or boat - it's not always ideal in every situation. Which means many may want to also use other sources of internet like cellular or Wi-Fi to complement satellite.
This resource article goes over considerations and approaches to combining Starlink with cellular and Wi-Fi.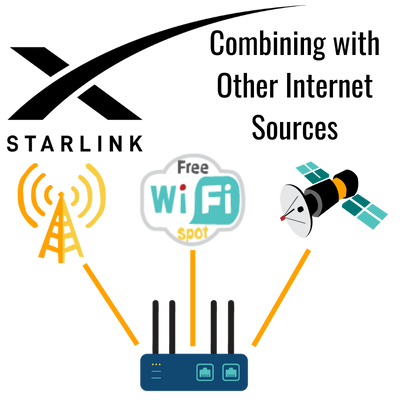 Member Exclusive Content Available
We are thrilled to offer a ton of free basic content, all made possible by member funding. We don't accept advertising, sponsorships and nor do we sell stuff.
This series of advanced content is available exclusively to our premium members. If you're finding our content useful, and this is the level of content you're seeking - then please consider becoming a member to go further.
Consider Becoming a Member
If mobile internet is an important part of your lifestyle, a membership can help keep you connected with these exclusive benefits:
in-depth exclusive content
interactive guidance
vendor discounts
alerts & insider tips
classroom
community
Already a member? Log in above to continue with this content.