Data Plan Pricing Guide
Selecting your ideal cellular carrier and data plans can be an overwhelming adventure, especially for nomads who need to replace a home internet connection while being mobile.
This guide is here to help you do that, and is a living document that we'll keep updated as each of the major carriers change around their plans and offerings.
When considering cellular plans, we are focused on finding the best options for keeping a nomadic household online.
The focus here is on data. Lots and lots of glorious hotspotable data or data that can be used directly on tablets & laptops.
Within the member section of this guide is a huge spreadsheet that our team keeps constantly updated comparing all of the data plans we are tracking. This grid makes is super handy to quickly compare the features, authorized devices, costs and limitations of data plans.
For more on selecting the right data plan for you, these further resources are designed to supplement this guide: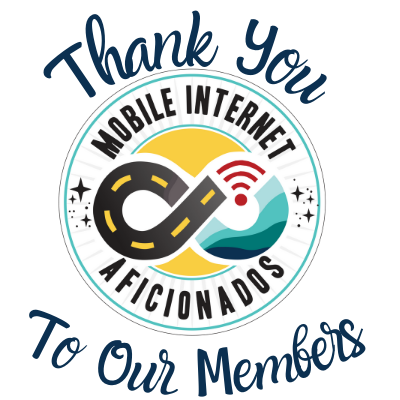 If you're a member, please log in above to access the exclusive portions of our content.
We are honored to be able to present a bunch of our content for free.
Our resource center is brought to you by funding from our premium members. We don't accept 3rd Party Advertising, we're not sponsored and we don't sell stuff.
Our members have exclusive access to in-depth content, classrooms, discounts, alerts, insider info and interactive guidance.
If mobile internet is an important part of your lifestyle, you can help make this possible:
Member Exclusive Content In This Guide
Has this guide been helpful so far?
Well.. there's a lot more below available to our members. As well as dozens of other guides like this, videos, classrooms, forums, webinars and more. All specifically created for helping keep RVers, cruisers and nomads online.
Consider Becoming a Member
If mobile internet is an important part of your lifestyle, a membership can help keep you connected with these exclusive benefits:
in-depth exclusive content
interactive guidance
vendor discounts
alerts & insider tips
classroom
community
Free Content Like This Made Possible By Our Members!
We are community funded via our premium membership program - allowing us to focus on creating unbiased quality, in-depth, constantly updated content. We don't accept 3rd party advertising, we're not sponsored and we don't sell 'stuff'.
Already a member?
Log in to continue with this guide.
Check out the Topics Covered in the Member Section:
Plan Pricing Comparison Grid
Our team tracks most every data plan that offers more than 10GB of hotspot data in a month in a handy comparison grid for each carrier.
Other Plan Costs
Make sure you understand all of the variables of data plans costs - from fees, taxes, promotions, discounts and plan perks.
Smart Combinations
This section goes over some combinations of plans, including coverage maps of carrier combinations, to consider for various use factors - from high bandwidth junkies, to moderate consumers.
Shopping for Cellular Data Plans
Finding the right plans for your needs is no easy task - quite simply mobile travelers using cellular data as their primary way online is not how most carriers have designed their plans. Many of us want plans that provide copious amounts of data.
Here's our video going over ways to get LOTS of data for use in your travels:
But a data plan alone will not keep you online. You also need the right gear, signal enhancing strategy and planning your travels around the options you carry with you. Head on over to our collection of guides:
Conclusion: Review all of Your Options
Selecting an ideal plan can be overwhelming given all the options available. Having a good understanding of you own data needs is important in determine what you should look for in a plan. If you are dependent on being connected, having plans with two or more carriers may be a good idea. Be sure to look for discounts you may be eligible for such as age-based discounts, military, or employee discounts.
Explore the Resource Center
Join our 'Library Desk':
Internet for RVers & Cruisers Facebook Group
We cross post news articles and guides, and can help point you in the right direction to our content here on the resource center.
It is with gratitude to our premium members that we're able to offer our free content - and for that, they also have access our private Q&A areas for more in-depth guidance.
The MIA is our premium membership - designed for those who consider mobile internet an important part of their lifestyle.
In thanks for making content like this possible, we offer a bunch of additional perks. From interactive guidance, in-depth member exclusive content, discounts, alerts, classroom and more.
We totally understand that a membership isn't right for everyone.
However you can still support this content with our supporter level for just $25/year.
With our gratitude, you'll get access to all our free content without the 'nags'.

Stay In the Know
We're constantly tracking the industry and analyzing new developments for mobile travelers. If you'd like to receive updates, we offer several ways: