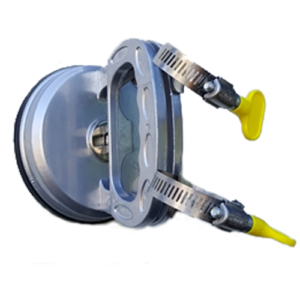 A suction cup mounted tube antenna holster from by TechnoRV, this mount will attach to any smooth, non-porous surface - such as RV exteriors.
An easy, clean, non-permanent install. Suggested attachment of the suction cup mount is near the entry point of where the cable will enter your RV.
The clamps on the Suction Cup Mount can securely hold most any outdoor-rated Wi-Fi antenna, or even some cellular antennas that do not require attaching to a metal ground plane. Mount is industrial strength, metal design and the suction cup is heavy duty.
For extra height to get up over the walls of your RV, a simple piece of PVC from a hardware store will work nicely.
The big downside of this mount of course is that it is NOT intended for permanent installation. You need to set this up and take this down in every location where you need it.
TechnoRV has published a great video showing how this antenna mount works in a range of situations.
Specifications
Dimensions:

4-5/8 inches (diameter)

Mounting:

Suction cups

Retail Price:

$44.99
News, Videos, & Status
We have not tested this product.
This Review Contains Additional Member Exclusive Content!
We are Honored to be Member Funded!
No ads, no sponsors, no selling (but may contain affiliate links)
Our members fund our in-depth independent reviews.
This entry may contain additional member exclusive content such as testing notes, field testing data, user interface tours, comparisons to alternatives, analysis, tips, videos and discounts.
Members also get interactive guidance, alerts, classroom and more. 
Purchasing Options
Purchasing Links & Disclaimer
We don't sell stuff, we are primarily member funded. Some links below may be affiliate links (see our disclaimer), which also helps fund MIRC.
The vendors displayed below provide larger discounts to our MIAs that we have negotiated instead of displaying affiliate links while they are logged in.
MIA Discounts - Learn & Save!
Our Mobile Internet Aficionados (MIA) get special discounts from the below vendors. Members please check for discount codes before ordering. With savings up to 11% off, you could save more than your membership cost!
Affiliate vendor links - using these links helps support MIRC's mission (MIAs, please log in to get special discounts):