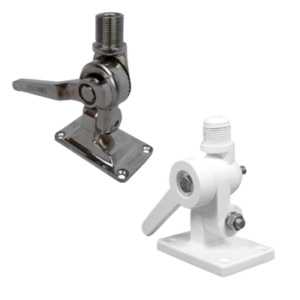 Marine antenna mounts provide a permanent antenna mounting solution for those looking for a sturdy, element resistant solution to mounting an antenna. Originally designed for, and primarily marketed for the boating community, these mounts are created to withstand harsh weather conditions and strong resistance (wind).
These mounts screw directly into your rig.
Many manufacturers produce marine type antennas, and most suggest an antenna to match with the mount (their antenna brand). However, most are interchangeable - just make sure you check your antenna's specs and dimensions before purchase.
Related News Articles:
Purchasing Options
Purchasing Links & Disclaimer
We don't sell stuff, we are primarily member funded. Some links below may be affiliate links (see our disclaimer), which also helps fund MIRC.
The vendors displayed below provide larger discounts to our MIAs that we have negotiated instead of displaying affiliate links while they are logged in.
MIA Discounts - Learn & Save!
Our Mobile Internet Aficionados (MIA) get special discounts from the below vendors. Members please check for discount codes before ordering. With savings up to 11% off, you could save more than your membership cost!
Affiliate vendor links - using these links helps support MIRC's mission (MIAs, please log in to get special discounts):
Other vendors (non-affiliate):
Wilson Marine Antenna Mount from Waveform
Wilson Marine Antenna Mount from UberSignal