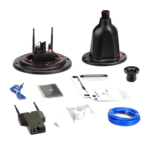 The Magnadyne MobileVision WiFi booster kit (MV100) uses a booster on the roof (MV2400) to pick up a host WiFi signal, then passes the signal wirelessly or via Ethernet cable to an internal router (MV2458) that is included in the kit. If a Wi-Fi connection is not available, the MV100 can be connected to a hot spotted LTE device as the host signal.
The system is designed to run on 12V power, and the system's interface has been optimized for smart phone, tablet or computer use.
Specifications - MobileVision MV100
Base Technology: MobileVision
Wi-Fi Router: Yes (MV2458)

Indoor (Router) 2.4GHz Wi-Fi:

802.11 b/g/n

Indoor (Router) 5GHz Wi-Fi

: 802.11 ac/a/n
Wi-Fi as WAN: Yes

Special Features:

Wired or wireless installation options

Power Source:

12V

Dimensions: ?

Outdoor Rated:

Yes (Antenna only)

Retail Price:

$300
Review & Testing Status
We do not currently have a kit in for review.
More Information Available to our Members

We are honored to be able to present the above overview for free without 3rd party advertising.
In thanks for funding this resource center our members have access to any further notes, analysis, insider info, member experiences and/or our full in-depth review of this product or offering.
If you're a member, please log in above to read the review.
Purchasing Options
Related News Center Articles