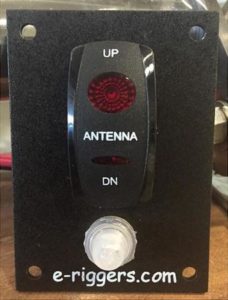 This is an antenna mount with an electric actuator that allows an external antenna to be folded down mechanically. The actuator is controlled through an internal control panel.
Designed with boats in mind, the external system is ready to deal with the elements and can be used for marine or RV installations.
Specifications
Product Name: E-Riggers Electric Antenna Mount

Mounting:

External antenna mount, internal control panel mount

Retail Price:

$449
News, Videos, & Status
A creative MIA member found, and has been utilizing this device in his own set-up with a Poynting 600 antenna. We do not intend to test this device ourselves.
This Review Contains Additional Member Exclusive Content!
We are Honored to be Member Funded!
No ads, no sponsors, no selling (but may contain affiliate links)
Our members fund our in-depth independent reviews.
This entry may contain additional member exclusive content such as testing notes, field testing data, user interface tours, comparisons to alternatives, analysis, tips, videos and discounts.
Members also get interactive guidance, alerts, classroom and more.
Purchasing Options