Short Term - Reliable Needs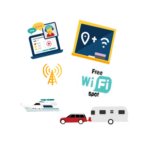 RVing and boating are great ways to vacation - whether for a long weekend or an extended adventure.
Remote work makes it possible for many people to work from just about anywhere you can get an internet connection. This makes extended RVing and boating trips even more appealing - you can combine adventure, travel, and daily life.
Internet options while mobile are very different than home or office-based options. For full-timers, it's likely worthwhile to invest in gear and data plans that keep them connected year-round.
But part-time or vacation travel presents some unique challenges that should be carefully considered.
Short-term and/or sporadic travel needs call for a reliable setup that might involve large amounts of high-speed data. This can be one of the more complicated mobile internet challenges.
The occasional nomad will need to balance costs and complexity with inconsistent needs. You may even have to weigh the need to pay for data plans that you don't use all of the time.
This guide is meant to address the unique perspective of part-time travel in relation to mobile internet setups.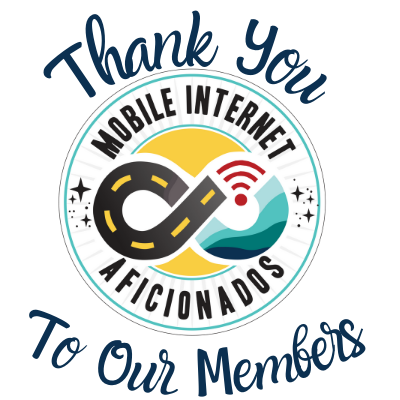 If you're a member, please log in above to access the exclusive portions of our content.
It is with huge gratitude to our members & supporters for making the free content on our site possible. We're not sponsored, you'll find no ads and we don't sell 'stuff'.
Our members get exclusive access to our in-depth content, classrooms, vendor discounts, alerts, insider info and interactive guidance.
We also offer a Supporter level at just $25/year for those who'd like to help, turn off nags like this and get our news stories delivered to your inbox.
If mobile internet is an important part of your lifestyle, consider helping make MIRC possible. 
Video Overview
A quick video that recaps some of the challenges and some tips for mobile internet for part-time travelers.
---
Challenges of a Part-Time Set-Up
When you have a fixed location, getting hooked up with the best internet solution is typically pretty straightforward. You subscribe to whatever is the best option at your location.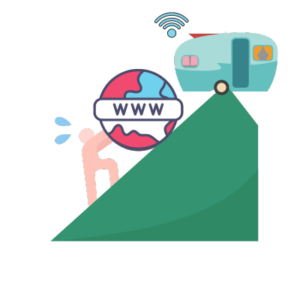 Mobility, however, presents some unique considerations that require more thought and planning to make sure you're covered where you want to be.
You need to be prepared for the reality that what gets you online at one location may not work as well when you move to a new location.
You'll have to weigh how many options are practical for your own personal mobile internet needs.
For those hitting the road year-round, it makes a lot of sense to invest in gear that can enhance and support your internet lifestyle, and data plans that provide redundancy, large swaths of coverage, and large buckets of data.
And it makes sense to invest the time to dive into research and education on navigating the challenges of keeping connecting in a variety of locations.
However, if you'll be splitting your time between mobility and stationary life, you have a different kind of challenge to balance your needs.
Compounding Gear & Plan Costs
Most part-time nomads will be maintaining both a traditional stationary internet option at their residence, in addition to a mobile internet solution for when they are on the go.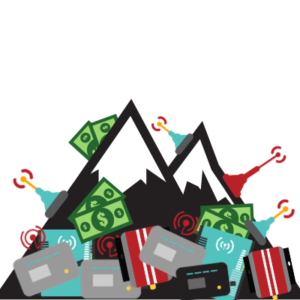 Both internet set-ups will likely require separate equipment and data plans.
Investing in devices and data plans for each situation may incur start-up costs.
There may also be re-activation costs each time you want to turn a plan back on. Or you may have ongoing plan costs even when you aren't using them - as some data plans may not allow you to pause service.
---
Determining Your Needs
We hear the phrase "I need a reliable mobile internet solution" often. But just what does the term "reliable" mean to you?
Mobile internet comes with many challenges - varying signal strengths, coverage maps from the different cellular carriers, data caps, network management, throttling, and poorly configured campground Wi-Fi networks, just to name a few.
No matter how you slice it, setting up a mobile internet setup that is reliable everywhere you go is a challenge.
Add when you consider that you'll only need that set up a certain amount of time each year, it means you'll have to balance the costs and effort you put towards a mobile solution.
You'll likely have to make some compromises in either costs or connectivity to find the right balance.
Before trying to come up with the best setup, we recommend taking a step back and assessing what your connectivity needs really are.
When you're used to an always-on, unlimited, and fast cable connection - you may not have really thought some of the questions that come in to play with a part-time solution, such as:
Do you really need fast speeds all of the time, or just some of the time?
Do you have to be accessible 24/7? Or can you go a day or two with just a faint signal, or needing to to go to a different location to get a better signal?
Can you check e-mail while in town or while parked at a campground with negligible Wi-Fi, or do you need a consistent fast signal all workday long from your RV or boat?
What do you need to do online? The data needs for two-way video calls are a lot more demanding than basic web surfing.
Do you need unlimited data, or can you manage with data caps?
Will you really wither away if you can't stream Netflix tonight, or scroll mindlessly through Facebook?
Can you get by with doing more tasks on a cellular-connected smartphone or tablet (where "unlimited" plans are more accessible), or do you really need to do everything on your laptop and use mobile hotspot data?
Do you have a set destination in mind, or you can pick a campground or location where you know you'll be more likely to have a good cellular signal?
If you can determine what your minimum viable connectivity needs are - you'll be better prepared to determine what compromises you can make in your setup.
Here are some further guides to explore on these topics:
Assessing Your Mobile Internet Needs
Travel Planning Around Connectivity for RVers and Cruisers
---
Flexibility is Key
For part-time travel, flexibility is key.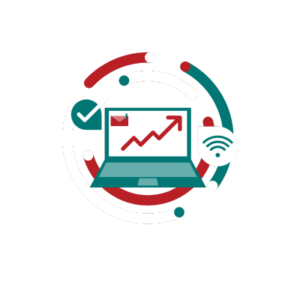 Flexibility in the mobile internet options you select, in your own approach to using them, and maybe even on the location you choose to visit.
You should be prepared for the variability of mobile internet. There will be good days and really bad days. Redundancy is a common approach for full and most-time nomads so that there are multiple options to tap into at each location.
However for shorter trips, you may not be able to justify having multiple options on board. It just may not be practical to have data plans on all the carriers, purchase expensive signal enhancing gear, or even to spend the time to understand all of these factors.
So make sure your expectations are realistic.
Unless you spend the time and money to understand the challenges, you might arrive at a new location and not be able to get online with the options you have. This can be particularly frustrating if you have work deliverables, and you end up spending more time trying to get a stable connection than you are enjoying your travels.
Flexibility is also the name of the game when considering the options you bring on board. It's just not going to make sense for someone who goes out RVing a couple of weeks a year to pay for an expensive monthly data plan active that you may only occasionally use.
---
Member Exclusive Content In This Guide
Has this guide been helpful so far?
Well.. there's a lot more below available to our members. As well as dozens of other guides like this, videos, classrooms, forums, webinars and more. All specifically created for helping keep RVers, cruisers and nomads online.
Consider Becoming a Member
If mobile internet is an important part of your lifestyle, a membership can help keep you connected with these exclusive benefits:
in-depth exclusive content
interactive guidance
vendor discounts
alerts & insider tips
classroom
community
Free Content Like This Made Possible By Our Members!
We are community funded via our premium membership program - allowing us to focus on creating unbiased quality, in-depth, constantly updated content. We don't accept 3rd party advertising, we're not sponsored and we don't sell 'stuff'.
Already a member?
Log in to continue with this guide. 
Check out the Topics Covered in the Member Section:
Seeking Out Flexible Options
For part-time needs, you'll want to assemble an arsenal of mobile internet solutions for maximum flexibility. From avoiding contracts, utilizing Wi-Fi sources, our recommended flexible high bandwidth data plans, and equipment selection tips - this section will help you find suitable options.
Cellular Data Plan Maintenance
If you've managed to capture a rare unicorn of a data plan - you may find you need to keep it active year-round, even if you don't use it year-round. This section goes over how to protect your rare plans - and tips for snagging sweet plans even when you're not actively traveling
Using Mobile Internet Year Round
Some part-timers standardize on a mobile setup that they use year-round, even at their stationary home base. This section covers some special considerations for this.
---
In Conclusion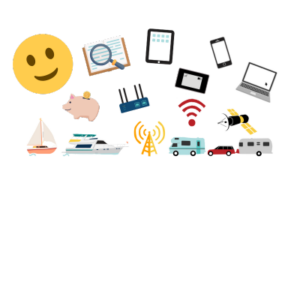 Creating a part-time mobile internet arsenal takes some research and a thorough consideration of your personal travel lifestyle needs. Building an arsenal that fits within your lifestyle is attainable.
The occasional nomad needs to balance complexity and costs with inconsistent needs.
We recommend beginning research and build-out of your arsenal no less than a month before you launch into a mobile lifestyle - even a part-time mobile lifestyle - if you require consistent internet access.
Use the info provided in this guide, and further research specific needs (such as Working From the Road) and pertinent gear and topics (such as Wi-Fi extending) to build a flexible mobile internet arsenal that works for you.
Explore the Resource Center
Join our 'Library Desk':
Internet for RVers & Cruisers Facebook Group
We cross post news articles and guides, and can help point you in the right direction to our content here on the resource center.
It is with gratitude to our premium members that we're able to offer our free content - and for that, they also have access our private Q&A areas for more in-depth guidance.
The MIA is our premium membership - designed for those who consider mobile internet an important part of their lifestyle.
In thanks for making content like this possible, we offer a bunch of additional perks. From interactive guidance, in-depth member exclusive content, discounts, alerts, classroom and more. 
We totally understand that a membership isn't right for everyone.
However you can still support this content with our supporter level for just $25/year. 
With our gratitude, you'll get access to all our free content without the 'nags'. 

Stay In the Know
We're constantly tracking the industry and analyzing new developments for mobile travelers. If you'd like to receive updates, we offer several ways: