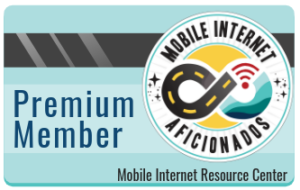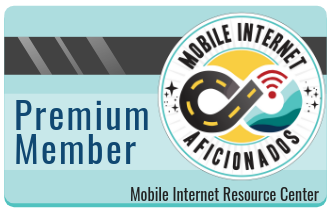 With a premium membership to the Mobile Internet Resource Center, you'll get:
Exclusive Member Only Content - In-Depth Guides, Mobile Internet 101 class, Videos, Alerts, Reviews
Vendor Discounts
Insider Tips & Sneak Peaks
Interactive Guidance in forums, group and webinars
A FREE Copy of

The Mobile Internet Handbook

(PDF), and any future updates that come out while your membership is active.

And of course, the gratitude of the mobile community for supporting this resource center's ability to offer free content.
We offer two membership payment options:
Annual Subscription - $85/year: Considering joining us for the long term? Awesome! Because your ongoing support helps us better plan our resources around future funding, we're happy to extend a lower rate. Sign up for automatic re-curring annual payments with our subscription pricing and you'll lock in the rate for as long as your payment profile stays active. This option does require Paypal, as they manage your payment profile. This is not a contract or commitment - you can easily cancel future renewals anytime from within your member account or PayPal.
Single Year Membership - $99: Start with one year, with the option to renew manually next year at current rates. This option does NOT require PayPal, you can checkout directly with a credit card.
Already bought the book? Use your coupon code to save on your membership:
For 2015 and newer editions: Check the back of the book in the 'Go Further' or 'On-Going Conversations' chapter for your coupon code.
For the 2014 edition: Use the 3rd to last word defined in the glossary as the coupon code.
Coupon policy: Coupons only apply to new full MIA memberships, and only one coupon code may be redeemed. Multiple codes/discounts can not be combined. We have only issued a few select codes - to existing book owners, members of partnered RV clubs and to readers of supportive bloggers.