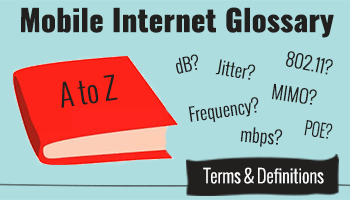 Before you get frustrated wondering why you might need a POE to power your CPE to get remote 802.11g when you'd really rather have more dB on your LTE – check our glossary below.
LTE-LAA (aka LTE Band 46) is a technology that lets cellular carriers tap into unused and unlicensed 5GHz Wi-Fi spectrum to offer crazy fast speeds over short ranges.

The "LAA" stands for "Licensed Assisted Access" - which means that your primary connection is still over traditional cellular bands, and the Wi-Fi frequencies are only there for a speed boost. Theoretically, the technology is designed to co-exist with nearby Wi-Fi signals to avoid causing any interference.

Verizon, AT&T, and T-Mobile have all begun to use LTE-LAA in some of their most congested urban areas, and the some flagship LTE devices automatically support tapping into these VIP express lanes.

Note: It seems that some devices are not able to use 5GHz for both Wi-Fi and cellular simultaneously. For example - the Netgear Nighthawk can only host a 2.4GHz Wi-Fi network with LAA enabled. Enabling 5GHz Wi-Fi disables LAA compatibility.