This 90º elbow can be incorporated into use with antennas to create a fold down function.
Designed with truckers in mind, it is meant to hold up to the elements.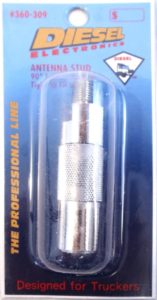 Specifications
Product Name: Barjan 360309 90 Degree Folding Antenna Stud

Mounting:

Retail Price:

$9.99
News, Videos, & Status
A creative MIA member found, and has been utilizing this device in his own set-up with an OTR Trucker Antenna.
This Review Contains Additional Member Exclusive Content!
We are Honored to be Member Funded!
No ads, no sponsors, no selling (but may contain affiliate links)
Our members fund our in-depth independent reviews.
This entry may contain additional member exclusive content such as testing notes, field testing data, user interface tours, comparisons to alternatives, analysis, tips, videos and discounts.
Members also get interactive guidance, alerts, classroom and more.
Purchasing Options