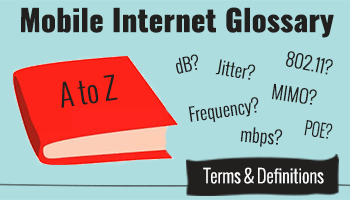 Before you get frustrated wondering why you might need a POE to power your CPE to get remote 802.11g when you'd really rather have more dB on your LTE – check our glossary below.
You'll also find these terms underlined through-out our guides & articles - just hover/click the word, and the definition will appear.
5

5G

5G

is the fifth generation of

cellular

technology, and is the successor to 4G/LTE. 5G will take advantage of many chunks of

spectrum

ranging from long range UHF frequencies up through short range extremely high millimeter wave frequencies. When broadcast over long range frequencies, 5G(...)

8

802.11

The IEEE

802.11

set of technical standard is the formal name for the wireless technology commonly referred to as

Wi-Fi

. The 802.11 standard comes in an alphabet soup of flavors. Going into the future, 802.11 will be more commonly referred to as simply 'Wi-Fi' and then a generation number(...)

a

AirCard

The brand name for cellular

mobile hotspot

devices from Netgear (formerly Sierra Wireless). They are often incorrectly referred to as Jetpacks or MifFs, which are actually trademarked branded words from Verizon and Inseego.

Amplifier

Pumps up the volume of a wireless signal. The

amplifier

is the electronic part of a cellular

booster

kit that is providing the power.

AMPS

Stands for Advanced Mobile Phone System, the original 1G

analog

cellular

network

widely deployed in the 1980s and 1990s. The

AMPS

network was phased out in the USA in 2008.

Analog

Analog

radio signals are made up of waves that have not been digitized – meaning that anyone with a compatible tuner can listen in. Analog radio is easy to eavesdrop upon, is a very inefficient use of spectrum, and it suffers from static and other interference – especially as distance(...)

Android
Antenna

An

antenna

takes electrical input and broadcasts it out as radio waves, or receives radio waves and provides an electrical signal to a device to utilize that signal. An antenna needs to be designed and carefully tuned for the frequencies that it needs to support, and they come in a variety(...)

AOL

Usually refers to 'Assumption of Liability' - the process by some cellular carriers to take over liability of an account. May also be referred to as transfer of service. Can also refer to 'America Online' - an online content service proceeding the internet as we know it today.

APN

The

APN

(Access Point Name) acts as a gateway between your cellular device and the carrier's data network. Every cellular device needs an APN and that APN must be one compatible with the cellular carrier, device, and

SIM

that you're using.

Attenuation

Attenuation

is the measurement of signal loss over a distance in a wire or through the air, usually reported as dB/cm or dB/ft. This measurement is important for antenna cables – "low- loss" cables have much less

attenuation

over a given distance.

b

Band

The radio spectrum is divided up into bands based upon the signal

frequency

. Standardized batches of LTE frequencies are also known as LTE bands, and each carrier utilizes different ones. When shopping for gear, it's important to select gear that supports at least the core bands your(...)

Bandwidth

Bandwidth

is the size of a wireless frequency

channel

. Think of it like how many lanes there are on a highway, or the size of a water hose. The larger the

bandwidth

allotted to a channel, the more information that channel can carry. The available bandwidth is what limits capacity on a(...)

Bandwidth Cap

Also know as a data cap, this is an imposed limit on the amount of data that can be used over a certain period of time. It may also be specific to a feature, such as mobile hotspot use or

roaming

. Once you exceed that cap, speeds are generally reduced - or on some tiered data plans, data is(...)

Bars

On mobile devices,

bars

are a visual representation of signal strength. Each device calculates them differently. The number of bars a device is displaying doesn't always have a direct correlation to how fast an internet connection will be - there are far too many variables. So we suggest(...)

Bird-on-a-Wire

Satellite

internet dishes need to be precisely aimed at the

satellite

providing data service. Rather than require a second dish for television reception, a BOW mounts additional receivers precisely offset on the same dish being used for data to also allow that dish to pick up satellite TV(...)

Bluetooth

Bluetooth

is a slow, short range wireless communication technology most commonly used for wireless headsets and speakers. Though Bluetooth uses the same 2.4GHz frequencies as Wi-Fi, it is designed to avoid interference – and usually succeeds.

Bonding

Also called "channel

bonding

," this is an advanced technique that lets a

router

combine multiple internet connections together into a virtual single connection for faster performance. So, for example, a router that supports bonding could combine two 4G

hotspot

connections into a faster, single(...)

Booster

Boosters are amplifiers used to improve wireless signal reception. Most common are cellular boosters to help smartphones and mobile hotspot devices receive an increased signal. However because of a core LTE technology called

MIMO

, boosters do not always translates to better mobile internet(...)

bps

Stands for bits per second. The smallest unit of computing is a bit – 0 or 1.

Network

speeds are measured in how many of these bits are capable of being sent per second. It takes 8 bits to make a "byte," and one byte usually represents a single character of text.

Broadband

In radio communications,

broadband

refers to a higher bandwidth transmission capable of transporting multiple signals simultaneously. Basically, it means faster than

dial-up

connection that is always on.

Broadband

is relative term – and over time what it takes to be considered "broadband"(...)

BYOD

BYOD

stands for 'bring your own device', and most often refers to a carrier or vendor's stance on whether or not you must purchase a device through them, or can bring your own.

c

Carrier Aggregation

Carrier aggregation

is a core

LTE-A

technology that combines multiple channels from different chunks of spectrum to make a higher bandwidth virtual channel that can support faster speeds. Most modern cellular modems have embraced this technology, and support for

carrier aggregation

is(...)

CBRS

The Citizens Broadband Radio Service (

CBRS

) is a chunk of 3.5GHz spectrum that the FCC has set aside for future use for 4G/LTE cellular, 5G, and other innovative uses. When used for LTE, CBRS is defined as LTE

Band

48. CBRS is pioneering an innovative approach to sharing access to spectrum(...)

CDMA

Code Division Multiple Access (

CDMA

) is the common name for the IS-95 and CDMA2000 standards for 2G and 3G networks originally embraced by Verizon and Sprint in the USA. 4G LTE and 5G have pretty much replaced 2G and 3G technologies that are being phased out.

Cellular

Cellular

data uses the same technology that allows smartphones to make calls, receive texts or browse the web. A smartphone, tablet, hotspot device or cellular router can convert cellular signal into Wi-Fi or

ethernet

to get laptops and other devices online - providing the data plan allows for(...)

Channel

A channel is the combination of the frequency a signal is being broadcast upon and the bandwidth that it occupies. In other words, the frequency is the address of the channel, and the bandwidth is the size of the house. The more bandwidth a given channel takes up, the fewer of them you(...)

CPE

CPE stands for "customer premises equipment" and is the term used for commercial-grade Wi-Fi access points used to provide Wi-Fi in a campground or marina. The equipment combines an antenna and radio into one device to minimize signal loss. Consumers can also use CPE equipment to maximize(...)

d

dB

The logarithmic

decibel

scale is used to indicate the amount of

gain

an amplifier or antenna provides, or the loss introduced over wires. Positive numbers represent amplification, and negative numbers represent loss. On the decibel scale, every 3dB represents a 2x increase, and every −3dB(...)

dBm

The logarithmic decibel scale is used to indicate the amount of gain an amplifier or antenna provides, or the loss introduced over wires. Positive numbers represent amplification, and negative numbers represent loss. On the decibel scale, every 3dB represents a 2x increase, and every −3dB(...)

Decibel

The logarithmic decibel scale is used to indicate the amount of gain an amplifier or antenna provides, or the loss introduced over wires. Positive numbers represent amplification, and negative numbers represent loss. On the decibel scale, every 3dB represents a 2x increase, and every −3dB(...)

DHCP

DHCP

(Dynamic Host Configuration Protocol) is the magic that happens behind the scenes that allows your computer and other devices to automatically configure to connect to the upstream router. The router uses DHCP to assign each device an

IP address

and tells it what

DNS

service to use. If(...)

Dial-Up

Back in the dark ages, people used a telephone

modem

to dial a phone number of an

ISP

to connect to the internet. Crazy, huh?

Digital

Digital

signals are made up of zeros and ones. All cellular networks today are

digital

networks. A digital network suffers drop-outs with distance until eventually the signal is lost.

DNS

DNS stands for "Domain Name Service" – This is the service that translates a name like "google.com" into an IP address like "206.181.8.251." Think of it like the white pages for the internet.

DNS

DNS stands for Domain Name System. DNS is an addressing and naming system for nodes on a network.

TCP/IP

networks use IP addresses for network nodes - a DNS system maps names for internet addresses. For example, a DNS system tells clients the IP address for www.rvmobileinternet.com. Think(...)

Download Speed

This is a measurement of the speed that data is able to flow to your device from the source. The faster, the better. Speeds over 5Mbps give a good surfing experience, and over 20Mbps will feel awesome. Speeds under 1Mbps can make the modern internet feel slow, and speeds under 500Kbps are(...)

DSL

Stands for "Digital Subscriber Line" – home internet service provided via telephone wires, usually by a local phone company.

e

Ethernet

Wired networks are commonly called ethernet networks.

Ethernet

wires look like landline phone wires, though the jacks at the end are wider. In order to use ethernet as part of your RV or boat's networking, you'll need to have a mobile router or device that has ethernet ports.

f

FaceTime

Apple's proprietary ultra-simple video phone technology. With

FaceTime

, you can make a video call to other iPhone and iPad users, as well as to Mac laptops and desktops.

Field Test Mode

Every iPhone has a hidden "

Field Test Mode

" that can be accessed by dialing a special "*3001#12345#*" phone number from the main dial-pad From within this mode, you can dig up details about your cellular connection that are not normally available, such as your raw signal strength, currently(...)

Firewall

A network

firewall

is a piece of software that analyses and enforces rules on network traffic. A firewall is designed to prevent malicious and unauthorized traffic on the network. Networks can have varying levels of trust - for instance, your personal

LAN

is a trusted network while the rest(...)

FirstNet

In 2012 Congress authorized the establishment of the First Responder Network Authority (

FirstNet

) with a goal to "provide emergency responders with the first nationwide, high-speed, broadband network dedicated to public safety". AT&T won that contract, and began deploying this network over(...)

Frequency

Frequency

is defined as the number of times a repeating event happens per second, and is measured in Hertz (or Hz). When it comes to radio waves, lower frequencies travel farther and can more easily pass through walls and obstructions. Higher frequencies are more easily blocked and are(...)

g

Gain

The gain is the increase in signal provided by an amplifier or an antenna.

Gain

is logarithmic and reported in dB – a 3dB gain is a doubling in signal power. A 10dB gain is a 10x increase in signal power.

Gbps

Gbps

stands for gigabit per second and is also often written as

Gb/s

. A gigagbit is made up of 1,000 megabits. This is a unit of measure most common for expressing local networking capability, but cellular technology is evolving to express speeds in this range as well.

Grandfathered

When an internet provider retires a plan it is no longer available to new customers. However those who already had the plan are generally

grandfathered

in - meaning they get to keep their plan, features and pricing for as long as they keep paying the bill. The carrier does legally have the(...)

Ground Plane

Some antennas designed for automobile use need a

ground plane

to function properly. The metal roof of a car or truck usually provides this functional. Using these styles of antennas on an RV or boat might require providing a 8" x 8" piece of metal to properly reflect signals into the antenna.

GSM

GSM

stands for "Global System for Mobile Communications" and is an international standard for 2G cellular networks. In the USA, AT&T and T-Mobile originally built their networks on the GSM standard. 4G LTE and 5G have pretty much replaced this older technology.

gUDP

gUDP

is shorthand for '

Grandfathered Unlimited

Data Plan', and more specifically refers to Verizon's legacy

unlimited

data plans. These plans were taken off the market in 2011, but continue to be grandfathered in for existing customers. They are not subject to

throttling

or network(...)

h

Hotspot

A hotspot is the common name for a Wi-Fi network's access point. A public hotspot is usually hosted by a campground, marina, cafe or library. A private hotspot might be one you host yourself, or one you've been given special access to such as a driveway host or business you are visiting. A(...)

i

iOS

The operating system inside Apple's iPhone and iPad.

IP Address

Every site on the internet has an IP address. Behind the scenes, this numerical address is used to communicate instead of friendly names like rvmobileinternet.com. It's like a phone number for every device and destination on the internet.

IPv4

The "Internet Protocol" (IP) address is like a phone number for every device on the internet. The addressing system in

IPv4

was made up of four 8-bit (0-255) numbers, so an IPv4 address looks like something like 192.168.1.1. IPv4 is limited because it can only provide ~4.3 billion unique(...)

IPv6

The "Internet Protocol" (IP) address is like a phone number for every device on the internet. The addressing system in IPv4 was made up of four 8-bit (0-255) numbers, so an IPv4 address looks like something like 192.168.1.1. In the mid-90's work began on

IPv6

, which expands the address(...)

ISP

Internet Service Provider (ISP) - the company who is providing your internet connection. It might be a cable company, a cellular carrier, satellite provider,

WISP

or

DSL

.

j

Jetpack

Jetpack

is trademarked branded name owned by Verizon to refer to their mobile hotspot devices - regardless of the manufacturer of the device. It is often incorrectly used to refer to any mobile hotspot device on any carrier, much like Kleenex is often used to refer to any brand of facial(...)

Jitter

Reported by some speed testing apps,

jitter

is an indication of how much the connection

latency

varies moment-to-moment.

k

Kbps

Stands for kilobit per second and is also often written as

kb/s

. It is a measure of Internet speeds, and slower connections of less than 1

Mbps

tend to be expressed in

Kbps

instead. 500 Kbps is half the speed of 1 Mbps.

l

LAN

LAN stands for Local Area Network, as opposed to

WAN

, which stands for Wide Area Network (ie. the internet). Whether wired or wireless, the network inside your home, RV, office or boat is considered a LAN. It is comprised of your router and devices you have connected to it which might(...)

Latency

This is the time in milliseconds it takes for a request from your computer to reach a server and to return, like the

ping

of a ship's sonar. The higher the number, the slower the speed. Latencies under 100ms are good, under 50ms are great, and ping times over 500ms (half a second!) begin to(...)

LNB

Low Noise Block. On a satellite TV or internet system, the

LNB

is the extremely sensitive reception antenna mounted on a boom at the focal point of the dish.

Lock/Unlock

A 'locked' mobile device is one that has been restricted by software so that it can only be used with a single network or carrier. Mobile phones are used to be heavily subsidized and carriers wanted to discourage people switching networks or shipping phones to other countries. But, even(...)

LTE

The dominant 4G technology is known as LTE, which stands for Long-Term Evolution.

LTE-Advanced

The LTE platform was designed to evolve to support faster and more advanced networks. The design goal for LTE-A is to enable cellular networks to support speeds up to 100Mbps for mobile users, and up to 1Gbps for stationary users.

LTE-LAA

LTE-LAA

(aka LTE Band 46) is a technology that lets cellular carriers tap into unused and unlicensed 5GHz Wi-Fi spectrum to offer crazy fast speeds over short ranges. The "LAA" stands for "Licensed Assisted Access" - which means that your primary connection is still over traditional(...)

m

Mbps

Mbps stands for megabits per second and is also often written as

Mb/s

(not to be confused with

MB/s

). It's the common unit of measure for expressing speed of an internet connection. A megabit is made up of 1,000,000 bits, or 125,000 bytes (text characters).

Microcell

A mini cell tower that utilizes an existing broadband Internet service to create local cellular service. These are generally only available in fixed locations (likes homes or offices) and are offered directly by cellular carriers to their customers in fringe signal areas. As this solution(...)

MiFi

"

MiFi

" is trademarked brand name by Inseego (formerly Novatel) for their line of mobile hotspot devices. The term is often used generically to refer to any mobile hotspot device - much like Kleenex is often used to describe any facial tissue.

MIMO

MIMO stands for Multiple-Input, Multiple-Output – for wireless networks, this means using multiple antennas working together to increase data speeds and signal reception. MIMO technology is central to the latest Wi-Fi and LTE cellular standards - and most devices can take advantage of at(...)

mmWave

Extremely high frequency

mmWave

(millimeter wave) 5G cellular bands are broadcast at 24GHz or higher, and are capable of insanely fast speeds. But mmWave signals have extremely limited range, and can be easily blocked by walls and even windows. AT&T has chosen to dub its mmWave service as(...)

Mobile Hotspot

Mobile hotspot

refers to the ability to use cellular data as your internet connection. The term is generally used in two ways: Mobile hotspot device - is a small data only device, usually battery powered, which combines a router with a cellular modem allowing the user to share a cellular(...)

Modem

Modem

is short for "modulate/demodulate". It's a device that can send & receive the signal from your internet service provider and translates it for use on your local area network to access the internet. It is commonly used to reference a cable modem, DSL modem or cellular modem. In mobile(...)

MVNO

Mobile Virtual Network

Operator

– a company that offers cellular service, but which does not own its own cellular network. MVNOs lease capacity from the major carriers and resell it under their own branding. Examples include StraightTalk and Consumer Cellular.

n

NAS

Network Attached Storage - This is data storage that is accessible through the network that centralizes the data making it accessible to any device that is connected to the network. Some routers have built in hard drives or usb connections to connect external hard drives for simple data(...)

NAT

Network Address Translation (

NAT

) is a method to translate IP addresses between networks. It also allows a single, public IP address to be used by multiple private IP addresses. This aspect of NAT is essential for creating private networks in home and mobile routers. It's also becoming a(...)

Network

A system of devices that are joined together, either by wires or wireless, so that they can communicate by exchanging information. A network can also share an internet connection to individual devices.

Network Management

Is when a carrier reserves the right to de-prioritize the traffic of high bandwidth users. They generally have a threshold before this kicks in (22-75GB of usage in a month). And some plans are always subject to it. After that threshold is reached, if you're on a cellular tower that is(...)

o

Operator

Operator is another label often used to describe cellular companies since they are operating a network on behalf of their customers. The network

operator

owns or controls the licensed radio spectrum and the network infrastructure necessary to provide service over that spectrum. Contrast(...)

OS

OS

stands for operating system. An operating system is the software that supports a computer's (or phone or tablet or etc.) basic functions, such as scheduling tasks, executing applications, and controlling peripherals.

Oscillation

If the outside antenna for a cellular booster picks up the signal from the inside antenna instead of the cellular tower,

oscillation

happens. If the booster is properly designed, it will power down to prevent this - thus limiting the effectiveness of a booster. This is the same phenomena as(...)

p

Packet Loss

Some speed testing apps report a percentage of "

packet loss

." Think of this as letters lost in the mail. Substantial and persistent packet loss on a connection means the connection is unreliable, and web pages may not reliably load.

Ping

How much time elapses before receiving a response to a signal is the ping time. The higher the ping time, the longer it will take for a webpage to start loading.

PoE

PoE

= Power Over Ethernet Some networking equipment is powered over an Ethernet network wire instead of via a dedicated power cord and power supply. This makes wiring much simpler since only a single wire needs to be run to the device. To get the power onto the Ethernet wire, a PoE injector(...)

POTS

POTS

is shorthand for Plain Old Telephone Service – the old way of getting online via dialing a modem on a regular wired phone line. Also known as a landline.

r

Refarming

When cellular carriers shut down older networks, they free up frequency spectrum that they can then reuse to support newer technologies. This process is called

refarming

the network. The downside of refarming is that devices based upon older technologies will get slower and less coverage,(...)

Repeater

A

repeater

actually recreates and broadcasts a new clean signal. Cellular repeaters are rare since to rebroadcast (and not just amplify) a signal requires close cooperation with the carrier. But Wi-Fi range extending systems typically are repeaters. This contrasts with a booster which(...)

Retired

When an internet provider no longer offers a plan to new customers, that plan is considered

retired

. Most often, those who had a plan that is now retired is grandfathered in - meaning they get to keep their plan, features and pricing for as long as they keep paying the bill. Sometimes(...)

Roaming

Roaming

is when a cellular carrier has agreements with other networks to utilize their towers, helping the carrier provide connectivity to customers who are just passing through areas the carrier doesn't directly service. A carrier may have different limits on their plans for domestic(...)

Router

A router acts as the hub of a local network. The WAN (wide area network) connection from the router provides the upstream connection from your local network to the internet. Usually, a router is required to allow multiple devices to share a single internet connection.

RSSI

RSSI

stands for Received Signal Strength Indication – an arbitrary mapping of the power received by an antenna (in

dBm

) to a number. How this number is calculated varies greatly from device to device. This is usually simplified into a visual bars or dots display. Signal strength is not(...)

s

Satellite

Satellites in orbit above the earth are invaluable for long-distance communication, and some support providing an internet connection. For those really going off grid away from cellular towers and Wi-Fi, satellite internet is a great option. Satellite internet requires two-way communication(...)

SIM

SIM stands for Subscriber Identity Module. The tiny SIM card is mandated on GSM and LTE networks and identifies you to the network. A SIM card is what holds your cellular plan and number. Swapping your SIM into a new phone or device moves your service and phone number to that new(...)

SISO

SISO

is short for 'Single In Single Out' and refers to a single antenna in one structure. This is opposed to MIMO, which is 'Multi In Multi Out' and refers to a structure that contains multiple antennas meant to work with each other. Multi SISO antennas can be used with a device to mimic(...)

Skype

A cross-platform audio and video chat platform now owned by Microsoft.

Smartphone

Most cellular phones these days are smartphones - they do more than just make calls. They are actually computers running an operating system that allows you to run apps for checking e-mail, surfing the web, plotting your travels, manage social media, playing games and watching(...)

Spectrum

The electromagnetic spectrum is the range of all possible frequencies of radiation, ranging from extremely high- frequency gamma rays and X-rays through visible light to infrared to radio waves. The radio spectrum is defined as 300GHz to 3kHz, and it is broken for convenience into bands.

Sub-6

5G technologies are not limited to mmWave spectrum. Carriers can also deploy 5G onto lower frequency cellular bands that have greater range, but slower speeds. The term "Sub -6" or "low

band

" has become shorthand for the "lower than 6GHz" cellular bands, to distinguish them from the very(...)

t

TCP/IP

TCP stands for Transmission Control Protocol and IP stands for Internet Protocol. IP is the protocol used to communicate across networks using IP addresses (see IPv4 & IPv6). TCP is the protocol used to communicate from applications (webpages, email, ftp, media streaming, etc.) to the(...)

telematics

Telematics

is a system that remotely monitors multiple aspects of a vehicle and combines that information with other data, like GPS and cellular data communication, to provide various services. This integration allows detailed monitoring of a vehicle's status, location, speed, and health. (...)

Tethering

Using a USB cable to directly attach the phone/tablet to a computer or router. This allows other devices to share the cellular data connection to get online . Usage of

tethering

(or mobile hotspot - which is the same concept, but over wireless connections) may have restrictions on some(...)

Throttling

Throttling

is intentionally slowing down a cellular data connection to run at a slower speed for specific tasks, or after a certain usage. Unlike

network management

where you may encounter slower speeds only during times of congestion - throttling always happen regardless of local tower(...)

u

Unlimited

"Unlimited" is the holy grail of mobile data, but read the fine print and you can find mobile hotspot limits, throttling, video resolution reduction and network management. Unlimited data and unlimited speed are different things to the carriers and they've successfully redefined the term(...)

Upload Speed

Upload speed

tells you how fast data is able to get from your device to its destination. For many typical internet tasks upload speeds don't have a huge impact. Upload speeds however are critical for video chatting and uploading large files like photos, videos or cloud-synced(...)

v

VOIP

VOIP

stands for Voice Over Internet Protocol, and refers to technology and service providers that allow for traditional (not cellular) phone calls to be placed over the internet. VOIP calls can be placed either via specialized applications or by plugging a regular landline phone into a VOIP(...)

VoLTE

VoLTE

means Voice over LTE. In the early days of 4G/LTE, smartphones needed to switch back to 3G networks to make voice calls. Once the cellular networks were upgraded to support VoLTE and VoLTE compatible devices came out, the 3G network was no longer needed and the radio could stay in 4G(...)

VoNR

VoNR

means "Voice over New Radio" - and is a technology that allows for voice calls to be made over 5G networks without needing to switch back to 4G for the duration of the call. VoNR is part of the evolution towards 5G networks being able to exist without relying on 4G for some functions -(...)

VPN

VPN

= Virtual Private Network. A VPN encrypts all the data coming to and from your computer, and sends it to a remote server that then connects to the public internet on your behalf. This prevents anyone on your local network from being able to eavesdrop on you. If you are traveling away(...)

w

WAN

WAN stands for Wide Area Network. aka 'the internet'. In networking terms, it simply means the source of your internet connection which could be cellular, cable, another Wi-Fi network or satellite. The WAN connection can come into a router via wireless, USB or hard-wired ethernet. Many(...)

Wi-Fi

Wi-Fi is a short-range local wireless networking technology use to connect devices together. While the technology is often used to also deliver an internet connection, the word itself does not necessarily mean internet access. Wi-Fi also has multiple meanings and contexts when we're talking(...)

Wi-Fi as WAN

WAN means Wide Area Network - otherwise known as 'the internet'. In networking terms, it's what the internet source is for a router. Some routers support using another Wi-Fi network as their internet data connection, and this is called

WiFi

-as-WAN. With WiFi- as-WAN, you can use your(...)

Wi-Fi Calling

Most phones support making and receiving voice calls over a Wi-Fi connection as well as over a cellular connection. This is a handy feature when your smartphone itself doesn't have a solid signal or you're traveling internationally without roaming - but you have other sources of internet(...)

WISP

The term WISP (wireless internet service provider) has typically been attached to ISPs that deliver service to fixed locations via long-range wireless signals, often in rural areas where cable and DSL are not practical options. A WISP providing service may have a transmitter on a nearby(...)

WPA3

WPA3

is the first major security standards update for

Wi-FI

networks in over a decade - and in particular it includes some important improvements for security on open public networks. WPA3 will eventually be as prevalent as

WPA2

is today. But it will take a LONG time before WPA3 is(...)

WPA2

WPA2 is the standard protocol for protecting Wi-Fi networks, replacing the now obsolete WPA and WEP protocols. The WPA2 protocol is set to slowly be replaced with WPA3, which improves security significantly - especially on public networks.