Thank you so much for wanting to share the resources here at RV Mobile Internet Resource Center with your readers.. we so appreciate you!
To help make that easier, we've set up this page with graphics & links that you're welcome to use. Just 'right click' and download any graphic you'd like to use, or select 'Copy Image Address' if you'd like to use a copy of the image instead.
The RV Mobile Internet Resource Center
Link: www.RVMobileInternet.com
We offer the public free content including news releases and knowledge base articles about specific information for RVers keeping online. We also offer the sale of our book, premium membership access to additional resources and private advising.
Our official description of the site:
We focus on unbiased information about what really works for keeping connected while being mobile. From cellular, WiFi, satellite and signal enhancing - we research the options, share our personal & professional experience and analyze industry news, so you can focus on what drives you.
The Mobile Internet Handbook
Book Cover and Graphics:
Sales Page for all editions: http://www.RVMobileInternet.com/Book
(Feel free to utilize your affiliate links with Amazon and/or Apple for the below when you share):
Kindle & Print Link: Coming Soon!
iBooks Link: Coming Soon
Book description:
The comprehensive guide to mobile internet options for US based RVers by Chris Dunphy & Cherie Ve Ard, full time RVing technomads of Technomadia.com.

The book covers cellular data, public WiFi, satellite, ham, cable/DSL, enhancing signals, installation, managing bandwidth, traveling to Canada & Mexico, entertainment options, cellular phone plans and most importantly – setting your expectations for what life on the road with mobile internet is like.

In this handbook, we help you assess your internet needs, set your expectations to realistic, explain your options and overview the challenges of mobile connectivity.

The book is written for the non-technical internet surfer to the high-tech geek – we strive to balance using every day language and examples to explain complex topics, while keeping things technically accurate.

All so you can best assemble a solution that is balanced between your desires and your budget.

Our goal is to make this stuff comprehensible so you can enjoy a thrivable life on the road with a minimal of technical frustrations, and still able to afford the fuel that propels your adventures!
Mobile Internet Overview
A great place to direct your readers & followers towards to get started is our Mobile Internet Overview article - it's free, and gives a starting place that goes over the basics. It even includes a 20m video we created.
Graphics: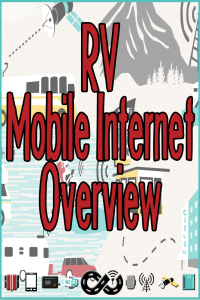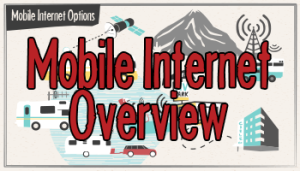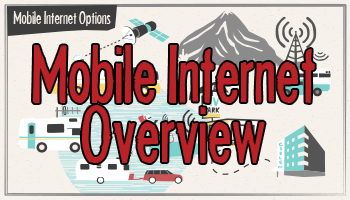 Link: www.rvmobileinternet.com/overview
---
Mobile Internet Aficionados
Logo:
Membership Information Page: http://www.RVMobileInternet.com/Membership
(If you like, we'd be happy to set up a special discount code for your followers)
Mobile Internet Aficionado is our premium membership group that helps those who depend on mobile internet to live their RVing lifestyle to stay 'in the know'. The group includes: The Mobile Internet Handbook, private Q&A Forum for asking questions, exclusive in-depth content - from product reviews, guides, tips, video and educational materials, an exclusive newsletter with breaking industry news and access to private advising sessions.