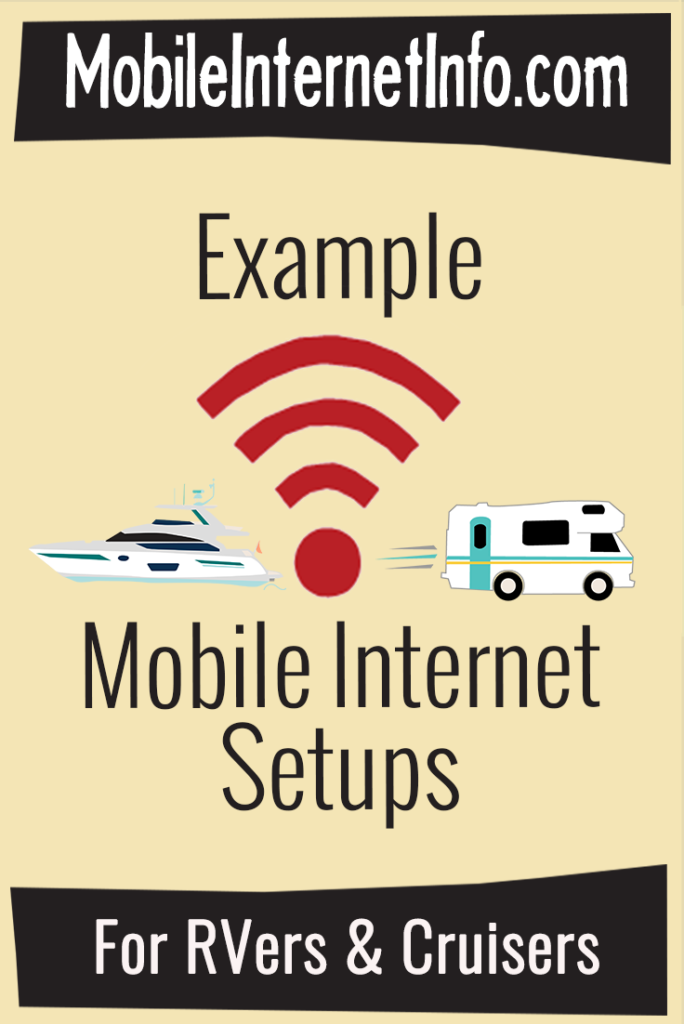 Links to Mobile Internet Setups
Over the years we have met many RVers and cruisers who have created differing mobile internet arsenals to satisfy their specific needs.
We don't recommend just copying another blogger's setup without really assessing if their needs are close enough to yours.
And besides, this stuff changes so often that you really need to look at what the current options are. Even stuff 6 months old can be outdated now.
But looking at the setups of others can be super helpful in understanding how this stuff comes together.
Here are links to RVers and cruisers who have shared their own mobile internet setups on their websites:
Staff Setups
Here are the setups that our very own Mobile Internet Resource Center staff use:
Technomadia - The personal setup of Chris & Cherie (your hosts here) - on the road since 2006 working remotely as software developers and advisors. They split their time between RV and intercoastal cruising in a boat.
Life with Dyna - The personal setup of Liz (a contributor here) & Jake - who have been on the road since 2015 working remotely.
The Free Five - The personal set up of Andy (a contributor here) and his family of five - an adventurous connected family who uses a lot of bandwidth!
Bloggers and Vloggers
RV Lifestyle - Mike & Jennifer have a popular YouTube channel and have been RVing part-time since 2012.
Changing Lanes RV - Chad and Tara hit the road in late 2017 and work remotely, and run a YouTube channel. They share their mobile internet setup.
LivinLite.Net - YouTubers and Bloggers Erik & Kala share the internet setup that has kept them connected for 3 years while working full time on the road. They also run MobileMustHave - a storefront offering tons of Mobile Internet-related products.
We're The Russos - Joe and Kait Russo transitioned to a nomadic lifestyle in 2015.
All About RVs - Jared travels with his family full-time, producing popular videos about RV living.
OurVie - Cees, Elizabeth & Theo travel full-time with their adventure cat, Vladimir.
KelloggShow - A full-time working & homeschooling family of 14, who use both cellular and free WiFi hotspots to stay online.
Getaway Couple - Rae & Jason traveling and working full-time by RV since July of 2017.
His&Hers Vlogs - Overlanders Ben and Rebecca roam the road full time in their 4x4 Expedition Vehicle - and share their adventures via YouTube vlogs.
Ben Stein & Family - A family who spent 14 months on Carver Voyager 570 boat, cruising the Great Loop.
GoPetFriendly - A couple of full-time RVers, traveling the country and reporting on pet-friendly travel practices and destinations.
Nature Photo Guides - Sarah & Ron travel in their Airstream as photographers, and share the mobile internet setup that keeps them connected in remote locations.
Tiny Shiny House - A family of 6 traveling around the country and homeschooling kids and working remotely.
Outside our Bubble - The arsenal of two high-tech geeks who work online - and a high-tech arsenal it is!
Insterstellar Orchard - Becky takes short-term jobs across the country, and for a long time was able to get by on just public Wi-Fi. She currently employs a very basic setup to keep her connected.
Gone with the Wynns – Nikki & Jason hit the road in an RV in 2010, and later transitioned to a sailing lifestyle.
Geeks on Tour – Chris & Jim have been on the road since 2003, and teach computer training both in-person and remotely. They rely on their grandfathered unlimited Verizon plan.
Trekkn - Todd & Julie traveled full-time for 17 months with their 3 children, and needed to stay connected for work while they were traveling.
Live Small, Ride Free - Ching & Jerud are both freelance works who have been full-time in their RV since 2015.
Nomadlyweds - Bryan & Dawn are both digital nomads traveling since June 2019.
Hungry for Tomorrow - Steve & Julia have been traveling full-time since 2016, and they both need to be online for their jobs.
Vegan RV - Kevin & Laura

have been living and working full-time in their RV since September 2016.

Story Chasing - Amber works remotely and has been full-time traveling since May 2017.
Newstate Nomads - Howard & Katelyn begin full-time RV living in 2018 and both have jobs where they need to stay connected.
Life En Route - Kelly & James work and live full-time in their fifth wheel as of October 2019.
Have a post about your mobile internet solution you'd like to share? Send us a note with it at [email protected].com and we may consider adding it to our list!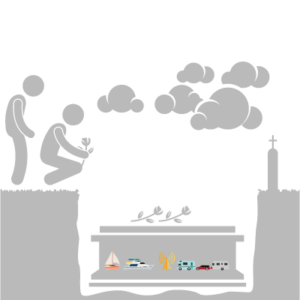 Mobile Internet is a changing entity, with new products and plans hitting the market constantly. Life is also a changing entity, and for some nomads, life has lead them to new adventures - some of which no longer involve the use of mobile internet.
Other times, our nomadic brethren have just chosen to no longer keep their mobile internet set-up page up-to-date.
This is where we let no longer updated, and out-of-date set-ups live.
Jack Mayer - On the road for over a decade, and working in the software industry. Has vast experience in installing RV Park WiFi setups too.
Tom and Lori RV Life - Now-retired, but formerly traveling while still working remotely, Tom and Lori share their mobile internet setup.
WheelingIt - Nina & Paul previously traveled the US in a motorhome doing lots of boondocking and volunteer workamping, as well as running their blogs, investing, and doing some freelance writing & photography. They then moved across the big blue yonder to Europe to continue their adventure.
The Reckless Choice - Nik & Allison both had location independent jobs, and worked while roaming in their RV.
Road Less Traveled - Authors and full-timers Emily & Mark Fagan shared their mobile internet setup that is based around a Verizon data plan and no cell phones!
RVLove - Two remote workers shared the internet setup that kept them connected as they explored the country. Now part-timers, RVLove has become a vast resource for those looking to get started and make RVing a reality!
Living Learning Mobile - Lucie & Craig travel in their 1982 Wanderlodge, both working remotely online. Craig has a 30+ year career in IT, and Lucie teaches online for a University.
RV Outlawz - Full-time RVing, these two have remote work corporate jobs that require a lot of connectivity.
The Snowmads - Formerly full-time wanders, now part-time nomads, Kristin shares how they stayed online while adventuring.
---
Summary: Find What Works For You
Seeing what other RVers and boaters are doing for their internet needs can be helpful, but remember there is no "one size fits all" solution. Everyone's individual circumstances are different, so be sure to understand your own unique needs when building your own personal setup.
We have created a guide to help you better understand why there is no one-size-fits-most solution to mobile internet, but that will help you better approach your setup so that you can successfully create an arsenal to support your personal needs and style.
Guide to Approaching Your Mobile Internet Setup
---
Additional Reading
Related Guides:
Explore the Resource Center
The MIA is our premium membership - designed for those who consider mobile internet an important part of their lifestyle.
In thanks for making content like this possible, we offer a bunch of additional perks. From interactive guidance, in-depth member exclusive content, discounts, alerts, classroom and more.
We totally understand that a membership isn't right for everyone.
However you can still support this content with our supporter level for just $25/year.
With our gratitude, you'll get access to all our free content without the 'nags'.

Have Questions? Stay In the Know
Join our 'Library Desk':
Internet for RVers & Cruisers Facebook Group
We cross post news articles and guides, and can help point you in the right direction to our content here on the resource center.
It is with gratitude to our premium members that we're able to offer our free content - and for that, they also have access our private Q&A areas for more in-depth guidance.
Stay in the Know
We're constantly tracking the industry and analyzing new developments for mobile travelers. If you'd like to receive updates, we offer several ways: