DIY Ethernet Cables
Whether wiring up a house or an RV - building your own ethernet network cables gives you the flexibility to create cables of any size, more easily route cables before installing connectors, and produce cheaper cables than those found in retail outlets.
While building your own cables is not "rocket science" it does require a certain skill set and a basic collection of the right tools. If you buy the tools referenced here, and learn the skills in this article, you will be able to produce network cables/telephone cables and properly test them.
Guidelines that will help you succeed:
Successfully producing cables does require some hand dexterity - if you cannot easily manipulate cables by hand you will find building a correct cable is difficult to accomplish.

This Guide is for Cat 5e cables. Cat 6 cables are much harder to crimp and require special connectors - do not attempt category 6 cables until you have mastered Cat 5 cabling.

You

must

acquire the correct tools. Without them building your own cables is very difficult to impossible.
What is an Ethernet Cable?
In short, Ethernet cables are the wires and connectors that make Ethernet possible. They are what connect two Ethernet devices together.
Ethernet is an old standard that's evolved and grown over the years as network speeds and computing power increased.
Ethernet is actually a large collection of network protocol standards. Ethernet is not really a physical media or cable standard - it can run on many physical media types. People commonly misuse the terms Ethernet and Category 5/Category 6 cabling interchangeably but they are different things.
Although it is commonly used with category 5e, category 6, or fiber optic cable today, in the past Ethernet ran on coax cable. Coax cable was abandoned mainly for cost reasons and because buildings were already often wired with twisted-pair cables for use with telephony.
Ethernet cables are divided into categories that determine their specific capabilities. The first Ethernet cables in the 1980s were Cat-1 Coax cables. Today most people use the Cat-5 or Cat-5e standard that was adopted in the 1990s with Cat 6 as the newer standard that many are moving to.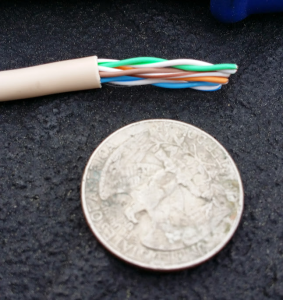 These modern cables consist of a series of "twisted pair" wires that make a single cable. The connectors for modern Ethernet cables are called RJ-45 connectors - they are similar to the RJ-11 connectors that wired telephones use (for those who still have wired telephones of course!).
Here's a quick rundown of the cables you are most likely going to run into:
Cat 5 - Can support 100Mbps speed (the "Fast" or 10/100 Ethernet standard).
Cat 5e - Most common today, this supports 1Gbps speed ( aka Gigabit or 10/100/1000 Ethernet).
Cat 6 / 6a - A newer standard that hasn't displaced Cat 5 yet - supports up to 10Gbps speeds.
If you're unsure, virtually all cables will have printing on the side that will tell you what Category they are and the standards they support.
Member Only Content In This Guide
Here's a sneak peak at the member exclusive topics in this guide:
Tools
A look at the tools you will need and how to use them
Twisted Pair Cable & Ethernet
The details on the various types of cables available and how to distinguish them
Building Cables
Step-by-step instructions for building reliable cables
Testing & Correcting Faults
How to ensure the cables you built function properly and how to correct mistakes.
Waterproofing Connections
How to waterproof connection
s for exterior applications.
---
Summary: Building Your Own Cables Gives You Options
The best thing about being able to build your own network cables is that it gives you options. It is easier to route wires in an RV or boat without connectors and gives you the opportunity to make a cable that is just the right length. And, over the long-run, it can save you money over store-bought cables.
Although it may seem intimidating, it is not particularly difficult to build your own cables - with some practice you will be building them like a pro.
---
We extend our gratitude to contributor Jack Mayer. This guide is an extensively updated and adapted version of the guide he wrote for the site in 2015. Unless otherwise indicated, all the graphics in this guide are provided by him.