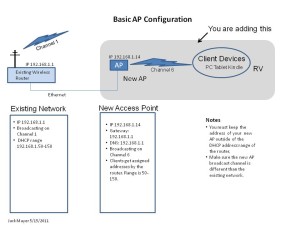 Wi-Fi Access Points
In the course of our fulltime RV travels we will often "moochdock" at a friend or relative's property.
Typically, we have minimal to no hookups – perhaps only a 15 amp power connection in a garage and the ability to fill our water tank with a hose. In these situations the moochdocking host usually has residential Wi-Fi on their property, but the signal is often weak or non-existent at our RV.
Because your host's Wi-Fi router and network wiring is accessible to you in most of these situations, you have the ability to temporarily add a more powerful Access Point (AP) to their network - making it possible for you to connect to their network from much further away, and at much higher speeds.
You can do this very easily, and without disturbing or affecting the existing network in any fashion.
What I describe here in this tutorial is how to add a commercial-grade AP to your host's network, very much like you would see used in an RV park or Hotel. This caliber of hardware is far more powerful than typical residential equipment.
This is not a "repeater" or "range extender" – you will be configuring another wired node on their network that broadcasts a more powerful Wi-Fi signal for your use.
Although this article is slanted towards adding a temporary AP for your moochdocking pleasure, the exact same process is used to add an AP to a campground, volunteer workamping site, or other facility. So if you feel like donating the effort and/or equipment towards upgrading underwhelming campground Wi-Fi, the process described here is exactly what is involved to install a SINGLE Access Point.
(Multiple access point setups are an advanced topic best left to experienced network planners...)
So what is involved in doing this?
First, you need the actual equipment. The good news is that the gear necessary is not expensive, and can be repurposed as a CPE for long range network connections when you do NOT have access to the host network wiring.
Read on for a step-by-step guide to getting everything setup.
---
Additional Member Only Content :
Here's a sneak peak at the member exclusive topics in this guide:
Access Point Hardware
Collecting Network Information
Connecting to the Access Point for Initial Configuration
Connecting to and Configuring the Access Point
Plugging the Access Point into the Host Network
Accessing the Access Point after Installation
Security Considerations
Advanced Topic: AP or CPE?
---
Summary: Adding an Access Point
If you have access to a location with Wi-Fi, but you're parked in a spot that gives you a weak or unusable signal, adding an Access Point can help you increase the signal at your location. However, this will only work in a situation where you have access to you host's router and network setup. This guide is geared towards setting up a temporary Access Point, such as when you're moochdocking on a friend's property. But it could also be utilized in a campground or workamping situation if you're willing to donate the time and equipment.
---
---
This post lovingly provided exclusively to the Mobile Internet Resource Center by Jack Mayer - November 17th, 2015.
You can follow Jack directly at his website: www.jackdanmayer.com
Copyright © 2015 John Mayer. All rights reserved. You MAY NOT republish or distribute this article in any fashion. You may use short quotes from this article only if you provide a direct reference to the original article.
---