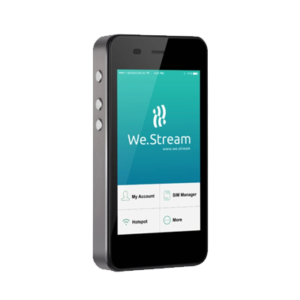 We.Stream offers a global hotspot that can be paired with cloud SIM data plans with data access in over 100 countries from We.Stream directly. In the U.S., We.Stream based plans operate on the Verizon, AT&T, or T-Mobile networks.
The We.Stream device can also be used with SIM cards from AT&T or T-Mobile - but does not support Verizon (CDMA).
We.Stream Device and Plans
The Category 4 hotspot device has 2 SIM slots and an embedded cloud SIM for international use. While the device itself uses older LTE technology, the multiple SIM slots and a built-in global SIM are unusual and handy features for some nomads, particularly those who travel frequently outside the U.S.
Their data plans are available by the day, week, month, or year, but the plans are high-priced, and have data limitations that do not make it a great solution for U.S. based nomads seeking U.S. based data. However, for those who plan to be hyper-mobile across international borders, We.Stream may be a option.
News, Videos, & Status
We are not currently testing this device or plans.
---
---
Purchasing Options