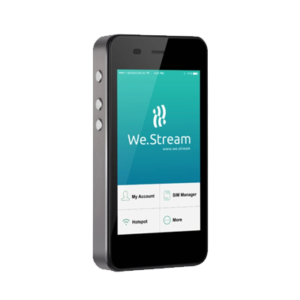 We.Stream offers a global hotspot that can be paired with cloud SIM data plans with data access in over 100 countries from We.Stream directly. In the U.S., We.Stream based plans operate on the Verizon, AT&T, or T-Mobile networks.
The We.Stream device can also be used with SIM cards from AT&T or T-Mobile - but does not support Verizon (CDMA).
We.Stream Device and Plans
The Category 4 hotspot device has 2 SIM slots and an embedded cloud SIM for international use. While the device itself uses older LTE technology, the multiple SIM slots and a built-in global SIM are unusual and handy features for some nomads, particularly those who travel frequently outside the U.S.
Their data plans are available by the day, week, month, or year, but the plans are high-priced, and have data limitations that do not make it a great solution for U.S. based nomads seeking U.S. based data. However, for those who plan to be hyper-mobile across international borders, We.Stream may be a option.
We.Stream Device
Specifications
Model Number: N/A
Control Panel and Default Password: N/A
USB Tethering Support: No
# of Connected Devices: 5
Supported Networks and Bands:
MIMO Support: 2X2 internal
LTE Performance Category: Cat 4: MAX Speed: LTE: Download: 150Mbps / Upload: 50Mbps
Other Ports: USB 2.0 (for charging other devices only) and MicroUSB 2.0 (for charging the We.Stream)
Wi-Fi Technology / Frequencies: IEEE802.11b/g/n 2.4GHz
Claimed Battery Life: 15hrs
Dimensions: 2.6 x 5 x .6 in
SIM Card Type: eSIM + 2x Nano
Retail Price: $349
Extras: Built-in VPN
We.Stream Data Service
Currently Available Plans:
Yearly Plans: 2GB, 5GB, 20GB per month of high-speed data, $249-$1789/year
Monthly Plans: 5GB or 10GB of high-speed data, $99-$149/month
3-Month, One Time Plan (with device purchase via Amazon): 50GB for $350
Weekly Plan: 500MB of high-speed data per day, $49/week
Daily Plan: 500MB of high-speed data, $8/day
Additional high-speed data may be added monthly as needed, although the price per GB is pretty high (i.e. 2GB/30 days $99)
Plan Specifications:
Carrier Networks Used: Verizon, T-Mobile, and AT&T in U.S.
Carrier Relationship: Reseller
Plan Types Available: Data Only
Device Types Permitted: We.Stream Hotspot
Unlimited: Technically on some plans, but with high-speed data caps
High-Speed Mobile Hotspot Use: Yes
Throttling: Yes, after high-speed data cap is met
Network Management: Not specified
Video Streaming Resolution: Not specified
5G Access: No
Device Purchase Required: Yes
International Roaming: Yes
Domestic Roaming: Unknown
Plan Period: Daily, Weekly, Monthly, Yearly
Data Roll Over: None
Overage Charges: No
Lines permitted per account: Not specified
News, Videos, & Status
We are not currently testing this device or plans.
---
Potential Alternatives to Consider:
Some of our TOP PICK Cellular Data Plans to also consider:
Learn More About Selecting Cellular Data Plans Explore Our Comparative Pricing Grid
---
This Review Contains Additional Member Exclusive Content!
We are Honored to be Member Funded!
No ads, no sponsors, no selling (but may contain affiliate links)
Our members fund our in-depth independent reviews.
This entry may contain additional member exclusive content such as testing notes, field testing data, user interface tours, comparisons to alternatives, analysis, tips, videos and discounts.
Members also get interactive guidance, alerts, classroom and more.
Purchasing Options
Links Provided for Convenience
We do not sell any gear or equipment. These links are provided to make your shopping easier, and we do not endorse any specific vendor. Unless otherwise disclosed, only Amazon links are affiliate links (see our disclaimer).
To remain unbiased as possible, our primary source of funding comes from our premium members, and we have negotiated higher discounts from some vendors instead of accepting affiliate relationships.
Shopping for Cellular Data Plans
Finding the right plans for your needs is no easy task - quite simply mobile travelers using cellular data as their primary way online is not how most carriers have designed their plans. Many of us want plans that provide copious amounts of data.
Understanding the different plan terms (like network management, throttling, hotspot data, video resolution) is key to determining if a plan will meet your needs or not. You also need plans that are suitable for use in the device you want to use them in - such as smartphone, mobile hotspot device or cellular embedded router.
To learn more about shopping for dataplans, check out these key guides:
As heavily as the carriers push their "Unlimited' data plans - you'll quickly discover that most have limits. Here's a video going over what you need to know about unlimited plans, including 3rd party resellers plans that you might find on the internet:
But a data plan alone will not keep you online - it's only one part of the equation. You also need the right gear and signal enhancing strategy.
For more education on assembling a cellular centric mobile internet setup, head on over to our collection of guides: