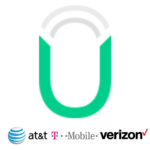 Unlimitedville is a small company out of Tennessee that provides provides cellular data plans on the AT&T, T-Mobile, Sprint and Verizon networks. They specialize in services for folks in rural areas who can't get cable or DSL services.
All plans offered by Unlimitedville are rental style unlimited data only plans.
Using a plan on Unlimitville requires a $99-249 upfront membership fee (which includes the mobile hotspot or router purchase to use with the plan.) All of the plans are on a no-contract month-to-month basis, require no credit checks and are available to consumers and businesses alike. Customers are billed directly from Unlimitedville, and do not have a direct relationship with the carriers.
Unlimitedville offers easy one-stop shopping and reportedly great customer service - but is essentially only marking up leased unlimited plans from other resellers.
If you're willing to do a little research (using our guide to Unlimited Data Options), you can generally obtain similar plans for significantly less per month.
Language in terms of what 'unlimited' means to Unlimitedville notes that:
Data abusers are those who purposefully push limits or conduct known illegal activity like torrenting etc. If you consistently burn through a half terabyte or more a month (that's over 500 GBs!), that is not normal internet usage and you could be asked to split your usage between two accounts or the service could be terminated by certain carriers.
Here are the plans they offer:
Yellow

- On Sprints network - $149/mo.

Pink

- On T-Mobile's network for $149/month
Blue - On AT&T's network for $199/month
Red - On Verizon's network for $249/month
Testing Status:
We do not have any of their current plans in for testing.
Policies & Perks:
Carrier Networks Used: AT&T, T-Mobile, Verizon, Sprint
Carrier Relation: Reseller
Plan Types Available: Data Only
Device Purchase Required: Yes
Mobile Hotspot Use: Yes - all
Throttling: None
Network Management: Not subject to network management; however, be sure to read fine print, as we have found Unlimitedville's own fine print to contradict advertised network management points at times.
International Roaming: None - U.S. only
Domestic Roaming: All of these plans include domestic roaming subject to the caps placed by each carrier.
Plan Period: 30 days
Data Roll Over: N/A
Overage Charges: None
Streaming: There are no restrictions on streaming video on these plans.
Unlimited: Yes - but customers using a lot of data (i.e. 500+GB) may be asked to break their plan into two accounts (be charged double).
Lines per account: No limit
Extras: No contract, and no credit checks
Related Articles:
---
Potential Alternatives to Consider:
For other featured cellular data plans ideal for RVers and Crusiers - here's some other options to consider:
Learn More About Selecting Cellular Data Plans Explore Our Comparative Pricing Grid
---
This Review Contains Additional Member Exclusive Content

We are honored to be able to present the above overview for free without 3rd party advertising or sponsorships. We are not paid by the manufacturer of this product to provide this listing or review, and nor are we selling this equipment or plan (purchasing links are provided below as a courtesy and some may be affiliates).
Our members have funded this resource center and any extensive hands on time
we have spent with the product to review it.
The in-depth portions of this review are made available to them which might contain: hands on testing notes, field testing data, user interface tour, product analysis, comparison to alternatives, setup tips, video tutorial, insider tips, vendor discounts and fellow member experiences.
If you're a member, please log in to continue with this review.
If you're not a member.. please consider joining us!
Purchasing Options
Selecting the right cellular data plan for your mobile internet needs is only one part of the equation. Here's some further guides on understanding the selection process as well as the additional gear you might need.