This device or plan has been discontinued or we consider it obsolete. While current owners of this device or plan may continue to find performance to be adequate for the foreseeable tech-future, we do not recommend upgrading to or purchasing it.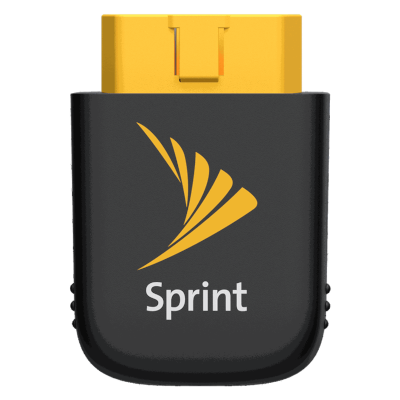 The Sprint Drive is a "Connected Car" device that plugs into a vehicle's OBD-II diagnostic port, automatically creating a Wi-Fi hotspot for up to 8 devices when the ignition is turned on.
The Drive enables telematics for emergency assistance, fleet management, theft, tracking and more. This device plugs into the onboard diagnostic port (OBD-II) of 1996 and newer model year vehicles.
Telematics features are included with plans for this device.
Specifications
Model Number: Drive
# of Connected Devices: 8 via WiFi
Control Panel and Default Password:
Device can only be controlled through a paired smartphone app
Default SSID/Password: Sprint Drive / [email protected]<last 4 digits of IMEI>
USB Tethering Support: None - on usable in a vehicle OBD-II port
Supported Networks and Bands:
4G/LTE Bands: 2, 4, 5, 12, 25, 26
MIMO Support: Unknown
LTE Performance Category: Unknown
Other Ports: None
Wi-Fi Technology / Frequencies: 2.4GHz 802.11n
Claimed Battery Life: N/A - unit does not have a battery
Can Be Powered Without a Battery: N/A
Dimensions: Unknown
SIM Card Type: Integrated
Retail Price: $120
Drive Cellular Plans
We keep info on the plans available on Sprint's Connected Car Device(s) in our Gear Center Entry for Sprint Postpaid Plans.
---
News, Videos, & Status
We do not intend to review the Sprint Drive
---
Potential Alternatives to Consider:
For other popular mobile hotspots on the market - here are our featured options:
---
This Review Contains Additional Member Exclusive Content!
We are Honored to be Member Funded!
No ads, no sponsors, no selling (but may contain affiliate links)
Our members fund our in-depth independent reviews.
This entry may contain additional member exclusive content such as testing notes, field testing data, user interface tours, comparisons to alternatives, analysis, tips, videos and discounts.
Members also get interactive guidance, alerts, classroom and more.
---
Purchasing Options
Links Provided for Convenience
We do not sell any gear or equipment. These links are provided to make your shopping easier, and we do not endorse any specific vendor. Unless otherwise disclosed, only Amazon links are affiliate links (see our disclaimer).
To remain unbiased as possible, our primary source of funding comes from our premium members, and we have negotiated higher discounts from some vendors instead of accepting affiliate relationships.
Mobile hotspot devices are small, self-contained units that receive a cellular data signal and transform it into an internet connection. They are a cellular modem and router combined. Most can create their own personal Wi-Fi network.
They are typically designed with a specific cellular carrier in mind and require a suitable cellular data plan of their own to operate. You might see them called Jetpacks (Verizon's term for them) or MiFi (Inseego's name for them).
Here's a quick video going over the features of a hotspot, and what makes one better than another:
The guides below have been hand-picked to help further your education about selecting mobile hotspots and best utilizing them in your mobile internet setup.