Sensorly is a free, 100% crowdsourced coverage mapping and network performance service for wireless networks worldwide. Sensorly uses data collected anonymously and shared by mobile app users.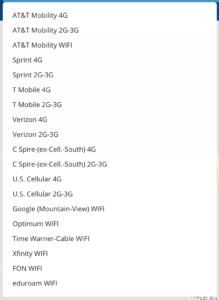 Sensorly is a French startup created in 2010 with more than 850,000 app downloads with coverage and network performance maps from 500 wireless networks across 85 countries worldwide. In November 2015, Sensorly was acquired by Mosaik.
Sensorly is available for iOS & Android.
There are coverage maps for 2G, 3G, and 4G on all the major US carriers, as well as several commercial Wi-Fi networks.
In addition, Sensorly provides map visualizations for both upload and download speeds in selected areas.
Specs:
Application: available on both iOS & Android devices
Carriers: All
WiFi Networks: Yes, limited commerical
Generations: 4G, 3G, 2G

Retail Price:

Free
Testing Status:
We have used the Sensorly app.
More Information Available to our Members

We are honored to be able to present the above overview for free without 3rd party advertising.
In thanks for funding this resource center our members have access to any further notes, analysis, insider info, member experiences and/or our full in-depth review of this product or offering.
If you're a member, please log in above to read the review.
Purchasing Options