Black Wireless, FreedomPop, Mango Mobile, and Unreal Mobile are all cellular MVNO service providers owned by Red Pocket Mobile.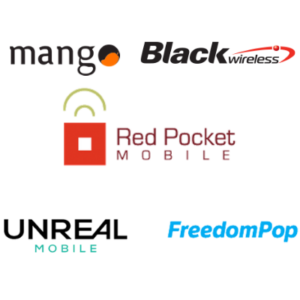 Red Pocket Mobile is, itself, an MVNO that has been around since 2006.
Until late June of 2019 UNREAL Mobile and FreedomPop were 'sister' companies, but not under Red Pocket's umbrella. While UNREAL and FreedomPop continue to act as their own virtual storefronts, they are now owned by RedPocket.
Mango Mobile and Black Wireless act as 'direct subsidiaries' of RedPocket - and you will note Red Pocket branding on their virtual storefronts.
---
Companies & Plans
Red Pocket Mobile
Freedom Pop
UNREAL Mobile
Mango Mobile
Black Wireless
---
News & Status:
Red Pocket Adds More Data to AT&T-Based Smartphone Plan - Now 100GB/$50 Posted on: February 8, 2022
Red Pocket Updates Plans - Discarding Unlimited Plans While Adding GBs to Other Plans Posted on: November 24, 2020
Mango Mobile Discontinues T-Mobile Yearly Plan, Cancels Service Posted on: April 16, 2020
Black Wireless No Longer offering T-Mobile Plans, Current Customers Canceled Effective April 10 Posted on: April 7, 2020
Shifting Landscape at FreedomPop, UNREAL, Ting & RedPocket Posted on: July 9, 2019
FreedomPop Now Offering AT&T Based Data Options Posted on: December 21, 2016
Sprint MVNO FreedomPop Offering Limited Time Only '4x the Data' Deals Posted on: September 29, 2016
FreedomPop to offer Free Data on Tablets Posted on: July 30, 2014
---
Also consider some of our other top pick data plans:
---
This Review Contains Additional Member Exclusive Content!
We are Honored to be Member Funded!
No ads, no sponsors, no selling (but may contain affiliate links)
Our members fund our in-depth independent reviews.
This entry may contain additional member exclusive content such as testing notes, field testing data, user interface tours, comparisons to alternatives, analysis, tips, videos and discounts.
Members also get interactive guidance, alerts, classroom and more.
Purchasing Options
Links Provided for Convenience
We do not sell any gear or equipment. These links are provided to make your shopping easier. Unless otherwise disclosed, only Amazon links are affiliate links (see our disclaimer). We request vendors give our members bigger discounts instead of giving us affiliate kickbacks.
Member Discounts - Learn & Save!
Our MIAs get special discounts from these vendors. Members please check for discount codes before ordering. Some vendors offer up to 10% off - you could save more than the cost of your membership on major purchases.
Red Pocket | Mango Mobile | Black Wireless | Unreal Mobile | FreedomPop
Shopping for Cellular Data Plans
Finding the right plans for your needs is no easy task - quite simply mobile travelers using cellular data as their primary way online is not how most carriers have designed their plans. Many of us want plans that provide copious amounts of data.
Here's our video going over ways to get LOTS of data for use in your travels:
But a data plan alone will not keep you online. You also need the right gear, signal enhancing strategy and planning your travels around the options you carry with you. Head on over to our collection of guides: