Black Wireless, FreedomPop, Mango Mobile, and Unreal Mobile are all cellular MVNO service providers owned by Red Pocket Mobile.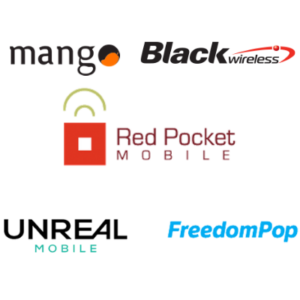 Red Pocket Mobile is, itself, an MVNO that has been around since 2006.
Until late June of 2019 UNREAL Mobile and FreedomPop were 'sister' companies, but not under Red Pocket's umbrella. While UNREAL and FreedomPop continue to act as their own virtual storefronts, they are now owned by RedPocket.
Mango Mobile and Black Wireless act as 'direct subsidiaries' of RedPocket - and you will note Red Pocket branding on their virtual storefronts.
---
Companies & Plans
Red Pocket Mobile
Freedom Pop
UNREAL Mobile
Mango Mobile
Black Wireless
---
News & Status:
Red Pocket Updates Plans - Discarding Unlimited Plans While Adding GBs to Other Plans Posted on: November 24, 2020
Mango Mobile Discontinues T-Mobile Yearly Plan, Cancels Service Posted on: April 16, 2020
Black Wireless No Longer offering T-Mobile Plans, Current Customers Canceled Effective April 10 Posted on: April 7, 2020
Shifting Landscape at FreedomPop, UNREAL, Ting & RedPocket Posted on: July 9, 2019
FreedomPop Now Offering AT&T Based Data Options Posted on: December 21, 2016
Sprint MVNO FreedomPop Offering Limited Time Only '4x the Data' Deals Posted on: September 29, 2016
FreedomPop to offer Free Data on Tablets Posted on: July 30, 2014
---
Potential Alternatives to Consider:
Some of our TOP PICK Cellular Data Plans to also consider:
Learn More About Selecting Cellular Data Plans Explore Our Comparative Pricing Grid
---
This Review Contains Additional Member Exclusive Content!
We are Honored to be Member Funded!
No ads, no sponsors, no selling (but may contain affiliate links)
Our members fund our in-depth independent reviews.
This entry may contain additional member exclusive content such as testing notes, field testing data, user interface tours, comparisons to alternatives, analysis, tips, videos and discounts.
Members also get interactive guidance, alerts, classroom and more.
Purchasing Options
Purchasing Links Provided as a Courtesy
We do not sell any gear or equipment. These links are provided to make your shopping easier. While some may be affiliate links, our primary source of funding comes from our premium members.
Members, please do check your Member Discounts before placing an order.
Red Pocket | Mango Mobile | Black Wireless | Unreal Mobile | FreedomPop
Selecting the right cellular data plan for your mobile internet needs is only one part of the equation. Here's some further guides on understanding the selection process as well as the additional gear you might need.