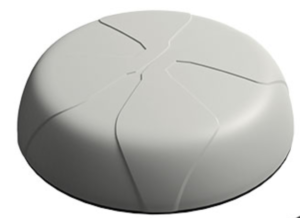 The Panorama 9-in-1 combines WiFi extending antennas and cellular antennas in a single, low profile, ground plane independent package.
The 9-in-1 is available in four different packages of varying antenna types and components.
The 9-in-1 incorporates up to 9 antennas (one of which is GNSS) in a low profile antenna housing. All versions have 4 ultra-wideband elements for 698-3800MHz which support MiMo function for 4G/5G & cellular bands. Options of 2x2, 3x3, or 4x4 Wi-Fi antennas provide both 2.4GHz and 5GHz extending capabilities.
There is also an option for a fifth antenna amplifying active GPS/GNSS.
This is a rugged outdoor mount antenna system. It is an omni-directional, panel mount device available in black or white.
Specifications
Model: LGMQM4

Wi-Fi

2 GHz & 5GHz
Gain: 6 - 8dBi
Impedance: 50 ohm

Cellular Bands Supported:

Gain: 4 - 6dBi
Impedance: 50 ohm

Special Features:

Combo Wi-Fi and Cellular antennas in one package
Connectors: SMA-Male (WiFi), SMA-Female (Cell)

Dimensions:

7'' (diameter) x 2'' (height)
Mounting Type: Roof mount

Outdoor Rated:

Yes

Retail Price:

$515
Testing Status
We are not currently testing this product.
A Full Review of this Product is Available to our Members

We are honored to be able to present the above product overview for free without 3rd party advertising.
In thanks for funding this resource center our members have access to the in-depth unbiased review of this product based on our extensive hands-on time and testing.
If you're a member, please log in above to read the review.
---
Purchasing Options
Related News Center Articles