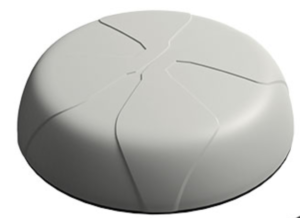 The Panorama 9-in-1 combines WiFi extending antennas and cellular antennas in a single, low profile, ground plane independent package.
This antenna is the one that Cradlepoint certifies for use with their routers, but it is also appropriate for use with Pepwave gear.
The 9-in-1 incorporates up to 9 antennas (one of which is GNSS) in a low profile antenna housing. All versions have 4 ultra-wideband elements for 698-3800MHz which support 4x4 MIMO function for 4G LTE cellular bands.
Options of 2x2, 3x3, or 4x4 Wi-Fi antennas providing both 2.4GHz and 5GHz extending capabilities were available, but it seems only 4x4 Wi-Fi edition is easily available.
This is a rugged outdoor mount antenna system intended for use with higher end cellular embedded routers that support 4x4 MIMO SMA inputs (for which there are currently limited choices on the market, such as some of the Cradlepoint COR line-up).
It can be used with dual 2x2 MIMO modem setups, however it's not recommended by the manufacturer for simultaneous use.
It is an omni-directional, panel mount device available in black or white.
Specifications
Model: LGMQM4
# of Antennas: LTE: 4x4 MIMO, WiFi: 2x2, 3x3, or 4x4 MIMO
Direction: Omni-directional
Frequency Range: 698-960/1710-3800MHz
Impedance: 50 ohms
Cable Type & Length: 4x Double Shielded RG58 (16'), 4x Double Shielded Solid Core (16'), 1x RG58 (16')
Connector: SMA
Internal Ground Plane: Yes

Dimensions:

7'' (diameter) x 2'' (height)
Weight: 5 pounds
Mounting: Roof mount
Outdoor Rated: Yes
Frequency/Gain: 5 dBi

Retail Price:

$515
---
News, Videos, & Status
We are not currently testing this product.
---
Potential Alternatives to Consider:
For other popular cellular antennas on the market we are tracking - here are our featured options:
Learn More About Selecting Cellular Antennas
---
---
Purchasing Options
Related News Center Articles