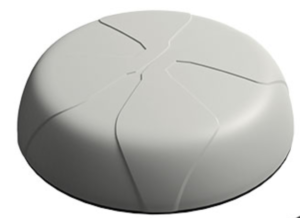 The Panorama 9-in-1 combines WiFi extending antennas and cellular antennas in a single, low profile, ground plane independent package.
The 9-in-1 is available in four different packages of varying antenna types and components.
The 9-in-1 incorporates up to 9 antennas (one of which is GNSS) in a low profile antenna housing. All versions have 4 ultra-wideband elements for 698-3800MHz which support MiMo function for 4G/5G & cellular bands. Options of 2x2, 3x3, or 4x4 Wi-Fi antennas provide both 2.4GHz and 5GHz extending capabilities.
There is also an option for a fifth antenna amplifying active GPS/GNSS.
This is a rugged outdoor mount antenna system. It is an omni-directional, panel mount device available in black or white.
Specifications
Model: LGMQM4

Wi-Fi

2 GHz & 5GHz
Gain: 6 - 8dBi
Impedance: 50 ohm

Cellular Bands Supported:

Gain: 4 - 6dBi
Impedance: 50 ohm

Special Features:

Combo Wi-Fi and Cellular antennas in one package
Connectors: SMA-Male (WiFi), SMA-Female (Cell)

Dimensions:

7'' (diameter) x 2'' (height)
Mounting Type: Roof mount

Outdoor Rated:

Yes

Retail Price:

$515
Testing Status
We are not currently testing this product.
The Rest of this Review is:
Member Only Content
We are thrilled & honored to be primarily member & reader funded - allowing us to present unbiased content. The in-depth review section of this product listing is part of the premium membership benefits of joining. Members can also leave their own reviews on products.
If you're a member, please log in above to read the in-depth review for this product and/or leave your own review. If you've not joined yet, learn more about membership at:
Panorama 9-in-1
Hardware

Overall Performance
Quick Take
A low profile combo cellular and WiFi antenna option.
Comments Rating
( review)