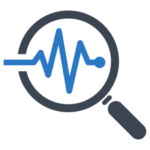 Wehe is a testing app developed for a university research project that is designed to detect if ISP's throttle certain mobile applications.
This tool is designed for net neutrality research purposes, but it is also useful for determining when cellular plan throttles are active. It can also help determine if public/campground WiFi has put in streaming and other throttles on their network.
The app works by testing the connections to several different streaming services and comparing the results. For a full description of how the tool works, see the app homepage.
WeHe is available for iOS & Android and is free and ad-free.
---
Specifications
Carriers: All
Generations: All plus WiFi

Retail Price:

Free
---
News, Videos, & Status
We have not formally tested this app.
This Review Contains Additional Member Exclusive Content!
We are Honored to be Member Funded!
No ads, no sponsors, no selling (but may contain affiliate links)
Our members fund our in-depth independent reviews.
This entry may contain additional member exclusive content such as testing notes, field testing data, user interface tours, comparisons to alternatives, analysis, tips, videos and discounts.
Members also get interactive guidance, alerts, classroom and more.
Purchasing Options