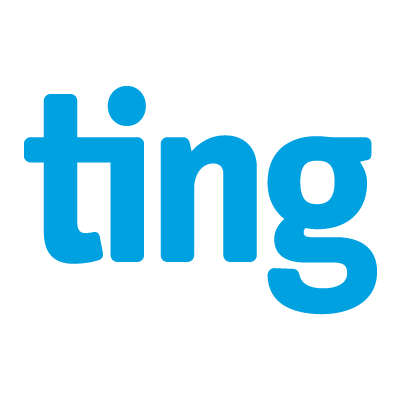 Ting Mobile is an MVNO owned by Dish Network. Ting also offers non-mobile internet options to a few fixed locations in the U.S.
Plan Information
Ting currently offers plans on the Verizon and T-Mobile networks.
Previously, Ting also offered plans on Sprint and only offered a "build your own" plan model. Customers who are currently on these plans can remain on them if they choose, or switch to the currently available plans. However, customers with Sprint phones may not be able to utilize the new plans; contact Ting to determine if your device is compatible.
Currently Available Plans
Currently Available Plans
Ting's current plan offerings were introduced in November 2020.
Unlimited Pro - $60 (35GB at high speed)
Unlimited - $45 (22GB at high speed)
Set 5GB - $25/month
Flex - $10/month/line + $5/GB
Top-up data available for all plans except Flex for $5/GB
Plan Specifications
Plan Specifications
Carrier Networks Used: T-Mobile, Verizon
Carrier Relationship: MVNO
Plan Types Available: Phone
Device Types Permitted: No specific devices are noted to be prohibited
Unlimited: Yes, but with high-speed data caps
High-Speed Mobile Hotspot Use:

Unlimited Pro: 30GB
Unlimited: 12GB
Set 5GB/Flex: All data can be used as hotspot

Throttling: On Unlimited plans, data is slowed to 2G after high-speed data cap
Network Management: Unknown
Video Streaming Resolution: Unknown
5G Access: Yes
Device Purchase Required: No
Plan Period: 30 days
International Roaming: International roaming is turned off on all new accounts by default. Enabling international roaming as a feature requires a minimum of three months of service, previous usage on your account, and for your account to be in good financial standing. When you enable international roaming on your account, you are expressing your intent to roam internationally and you agree to pay all charges associated with international roaming.
Domestic Roaming: Yes, but excessive use may cause termination of plan.
Data Rollover: Not on base plan data, but top-up data will roll-over
Overage Charges: No
Lines Permitted per Account: No limit
Extras: None
News, Videos, & Status
News Stories:
---
Potential Alternatives to Consider:
Some of our TOP PICK Cellular Data Plans to also consider:
Learn More About Selecting Cellular Data Plans Explore Our Comparative Pricing Grid
---
This Review Contains Additional Member Exclusive Content!
We are Honored to be Member Funded!
No ads, no sponsors, no selling (but may contain affiliate links)
Our members fund our in-depth independent reviews.
This entry may contain additional member exclusive content such as testing notes, field testing data, user interface tours, comparisons to alternatives, analysis, tips, videos and discounts.
Members also get interactive guidance, alerts, classroom and more.
Purchasing Options
Purchasing Links Provided as a Courtesy
We do not sell any gear or equipment. These links are provided to make your shopping easier. Unless otherwise disclosed, only Amazon links are affiliate links (see our disclaimer).
To remain unbiased as possible, our primary source of funding comes from our premium members, and we have negotiated higher discounts from some vendors instead of accepting affiliate relationships.
Members, please do check your exclusive Member Discounts before placing an order.
Selecting the right cellular data plan for your mobile internet needs is only one part of the equation. Here's some further guides on understanding the selection process as well as the additional gear you might need.