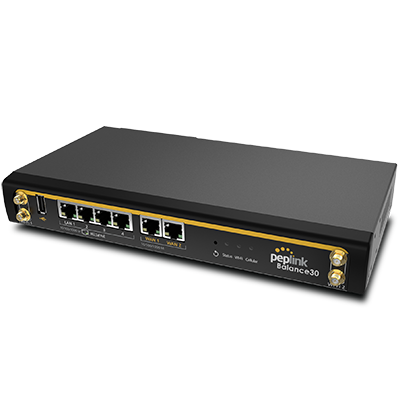 Peplink is a large and respected company in the high-end mobile networking space, particularly well known for providing cellular connectivity for everything from fleets of vehicles to cruise ships to dispersed corporate offices.
Peplink is also a key provider of bonding technology that allows a router to combine multiple network connections together for increased performance, or enhanced redundancy and reliability.
The Pepwave Balance 30 Pro is part of the balance line of routers, which are primarily intended for use in branch offices but can be options for mobile users. One advantage of the 30 Pro over some mobile routers like the Pepwave MAX BR1 MK2, is that it supports USB tethering.
For an overview of the full Pepwave product line (and a look at some of the software features in common across different devices), see our product lineup entry:
Product Lineup: Pepwave Routers by Peplink
Specifications
Model: Pepwave Balance 30 Pro
Router Specs:

# of Connected Devices: 1-60
Wi-Fi Router: Yes

Wi-Fi Standard: Wi-Fi 5 (802.11ac) - Simultaneous 2.4 GHz & 5 GHz
Max Theoretical Wi-Fi Speed: 300 Mbps (2.4 GHz), 900 Mbps (5 GHz)
Wi-Fi Antenna: 4x RP-SMA Wi-Fi Antenna Connectors
Wi-Fi as WAN: Unknown
Claimed Wi-Fi Range: Not specified

Guest Wi-Fi Network:

Yes

Default Control Panel Address: Not specified
USB Tethering Support: Yes

Cellular Modem Specs:


Cellular Modem: Single 4G

Supported Networks and Bands:

Verizon, AT&T, T-Mobile, Sprint
4G/LTE Bands: 1, 2, 3, 4, 5, 7, 8, 12, 13, 20, 25, 26, 29, 30, 41

3G Bands:

WCDMA/HSPA+/DC-HSPA+: 1, 2, 3, 4, 5, 8

2G:

No
MIMO Support: 2X2 MIMO

LTE Performance Category:

Cat-6 (Max Theoretical Speed: 300 Mbps Down / 50 Mbps Up)
LTE-Advanced Carrier Aggregation: 2x Download

Cellular Antennas:

2x SMA/Female Antenna Ports
SIM Slots: 2x Mini-SIM

Dimensions: 1.6 x 10.2 x 5.6 inches
Other Ports:
Power Source: DC Connector, 10V - 56V; 12V2A Power Supply included
Outdoor Rated: No

Special Features:

Pepwave Speedfusion

Retail Price:

$799
---
News, Videos & Status
We do not intend to acquire a Balance 30 Pro for testing.
Related News Articles
---
---
Purchasing Options
Members - be sure to check the Member Discounts page for some potentially substantial savings on purchasing Pepwave routers. Some of these discounts can actually exceed the cost of membership here!