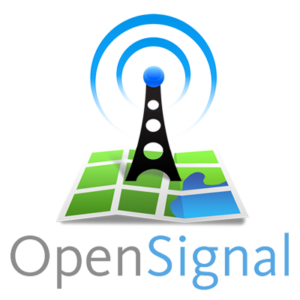 OpenSignal is an App that crowdsources data on carrier signal quality from users who have its mobile application installed. Consumers can view the crowdsourced data either online or in-app in the form of color-coded maps of different carriers side-by-side.
The original version of the app allowed you to see cell towers around you on a map with a "signal compass" that pointed in the direction of the tower. This functionality was removed in an April 2020. The app now shows "network statistics" for each carrier in your current areas, based on data collected from app users.
The app also includes a regular speedtest as well as a video speedtest.
OpenSignal is available for iOS & Android.
The map has options to show 2G/3G and 4G coverage.
The App is free and ad-free.
Specifications
Application: available on both iOS & Android devices
Carriers: All
Generations: 4G, 3G, 2G

Retail Price:

Free
News, Videos, & Status
We sometimes use OpenSignal when testing or using our mobile internet arsenal in a new location.
This Review Contains Additional Member Exclusive Content!
We are Honored to be Member Funded!
No ads, no sponsors, no selling (but may contain affiliate links)
Our members fund our in-depth independent reviews.
This entry may contain additional member exclusive content such as testing notes, field testing data, user interface tours, comparisons to alternatives, analysis, tips, videos and discounts.
Members also get interactive guidance, alerts, classroom and more.
Purchasing Options