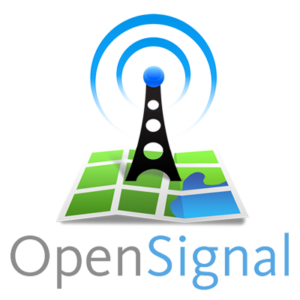 OpenSignal is an App which crowdsources data on carrier signal quality from users who have its mobile application installed. Consumers can view the crowdsourced data either online or in-app in the form of color-coded maps of different carriers side-by-side. It also allows you to see cell towers around you on a map. and the signal compass points you in the direction you need to walk in to improve your connection.
Unlike other apps, which look for maximum possible speed through testing, OpenSignal reports on what you are likely to experience when normally using your phone.
OpenSignal is available for iOS & Android.
There is a coverage map for 2G, 3G, and 4G.
This App also has a built in speed test for download, upload and latency.
You can also share your findings and compare your connection with other users, as well as save your data to an SD card.
The App is free and ad-free.
Specs:
Application: available on both iOS & Android devices
Carriers: All
Generations: 4G, 3G, 2G

Retail Price:

Free
Testing Status:
We use OpenSignal when testing or using our mobile internet arsenal in a new location.
More Information Available to our Members

We are honored to be able to present the above overview for free without 3rd party advertising.
In thanks for funding this resource center our members have access to any further notes, analysis, insider info, member experiences and/or our full in-depth review of this product or offering.
If you're a member, please log in above to read the review.
Purchasing Options