Canadian router manufacturer MoFi originally launched the MoFi 4500 line in August of 2015, with an optional integrated cellular radio.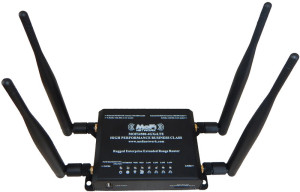 MoFi routers provide a local Wi-Fi and Ethernet LAN network, and support tethering to a cellular hotspot or USB modem to share your cellular connection.
MoFi also supports direct USB tethering to Android phones and was the first router to support direct iOS smartphone tethering (a feature now matched by WiFiRanger).
With an integrated cellular radio included with many MoFi versions, the tiny MoFi box can do away with the need for a separate cellular hotspot entirely.
This packs a ton of capability into a small metal shell for the price point.
The basic MoFi router has remained essentially the same since 2015, but MoFi has upgraded the integrated cellular radio over time. The most recent version is the SIM7 version - supporting T-Mobile Band 71 and AT&T Band 14.
While MoFi looks great on paper - the actual hands-on experience is, at best, challenging.
Product Variations
MoFi offers a range of models on their website, with often confusing product names. The two of most interest to our audience are the SIM4 and SIM7 of the MoFi4500-4GXeLTE line-up.
Additionally, MoFi offers a Combo version of these routers, which basically includes a higher gain screw-in paddle antenna for a few extra bucks. If you're intending to use roof-mounted antennas with your MoFi, you can skip the upgrade.
News, Videos & Status
MoFi has provided us with both a basic MoFi 4500 and the universal cellular SIM4 model, and we tested them in a range of locations and situations. We have not tested the newer cat 4 SIM7 model that supports Band 14 and 71.
We've shared our in-depth testing notes with our members in more detail below, and in our testing notes:
March 2019 Update: After hearing multiple recent reports of improvements in the MoFi stability and firmware, we put our SIM4 unit back into testing for re-analysis. Our review below remains unchanged.
Related News Center Articles:
---
---
Member Exclusive Content Below
Deep Dive

Hardware Features
User Interface
Other Models & Variations
DIY Build Option
Purchasing Options