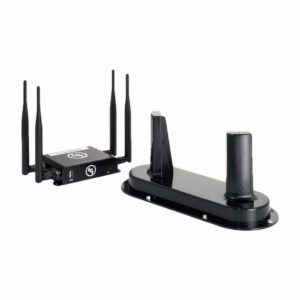 The WiFi On-the-Go was designed and engineered for the mobile lifestyle.
WiFi On-The-Go incorporates a weatherproof, low profile external cellular antenna array for increasing cellular signal range. This unit mates with SMA RG-174 coaxial cable, or has an option for a bulkhead SMA female connector. The external antenna can be permanently or temporarily mounted.
The WiFi On-The-Go transfers a cellular signal to create a local area network (LAN) WiFi signal. The unit incorporates two 2.4 GHz WiFi antennas to provide LAN coverage at a longer range throughout your rig and the surrounding area.
WiFi On-the-Go is currently compatible with 4G LTE Bands 2, 4 and 12 (AT&T and T-Mobile). You must purchase a separate data package through either T-Mobile or AT&T - Lippert does not sell data packages.
Here's whats included when you purchase a WiFi On-the-Go Kit:
Externally mountable 4G cell antenna array (1)

Portable 4G cell antennas (2)

2.4GHz WiFi antennas (2)

120V AC power supply (1)

LCI WiFi On-the-Go router (1)

10' 4G cell antenna cables (2)

Wired 12V DC/DC power supply (1)

#8 hex/slotted head mounting screws (6)
Specifications - Lippert Wifi On-The-Go
LAN Cellular to Wi-Fi Router:

External Mount Cellular Antennas:

SIM Type: Nano

Power Source:

12V DC/DC or 120V AC/DC adapter

Dimensions:

5 x 12.4 x 13 inches

Retail Price:

$308
Testing Status:
We do not have a unit in for testing at this time.
The Rest of this Review is:
Member Only Content
We are thrilled & honored to be primarily member & reader funded - allowing us to present unbiased content. The in-depth review section of this product listing is part of the premium membership benefits of joining. Members can also leave their own reviews on products.
If you're a member, please log in above to read the in-depth review for this product and/or leave your own review. If you've not joined yet, learn more about membership at:
Purchasing Options
Related News Center Articles
Lippert WiFi On-The-Go
Hardware

User Interface

Overall Performance
Quick Take
Lippert's indoor/outdoor complete package for cellular to LAN WiFi system.
Comments Rating
( reviews)