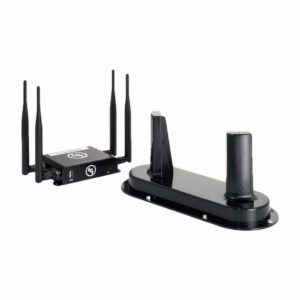 The WiFi On-the-Go was designed and engineered for the mobile lifestyle.
WiFi On-The-Go incorporates a weatherproof, low profile external cellular antenna array for increasing cellular signal range. This unit mates with SMA RG-174 coaxial cable, or has an option for a bulkhead SMA female connector. The external antenna can be permanently or temporarily mounted.
The WiFi On-The-Go transfers a cellular signal to create a local area network (LAN) WiFi signal. The unit incorporates two 2.4 GHz WiFi antennas to provide LAN coverage at a longer range throughout your rig and the surrounding area.
WiFi On-the-Go is currently compatible with 4G LTE Bands 2, 4 and 12 (AT&T and T-Mobile). You must purchase a separate data package through either T-Mobile or AT&T - Lippert does not sell data packages.
Here's whats included when you purchase a WiFi On-the-Go Kit:
Externally mountable 4G cell antenna array (1)

Portable 4G cell antennas (2)

2.4GHz WiFi antennas (2)

120V AC power supply (1)

LCI WiFi On-the-Go router (1)

10' 4G cell antenna cables (2)

Wired 12V DC/DC power supply (1)

#8 hex/slotted head mounting screws (6)
Specifications
LAN Cellular to Wi-Fi Router:

External Mount Cellular Antennas:

SIM Type: Nano

Power Source:

12V DC/DC or 120V AC/DC adapter

Dimensions:

5 x 12.4 x 13 inches

Retail Price:

$339
---
Review & Testing Status

We do not have a unit in for testing at this time.
---
Potential Alternatives to Consider:
For other popular mobile routers on the market we are tracking - here are our featured options:
Learn More About Selecting Mobile Routers
---
This Review Contains Additional Member Exclusive Content

We are honored to be able to present the above overview for free without 3rd party advertising or sponsorships. We are not paid by the manufacturer of this product to provide this listing or review, and nor are we selling this equipment or plan (purchasing links are provided below as a courtesy and some may be affiliates).
Our members have funded this resource center and any extensive hands on time
we have spent with the product to review it.
The in-depth portions of this review are made available to them which might contain: hands on testing notes, field testing data, user interface tour, product analysis, comparison to alternatives, setup tips, video tutorial, insider tips, vendor discounts and fellow member experiences.
If you're a member, please log in to continue with this review.
If you're not a member.. please consider joining us!
Purchasing Options
Related News Center Articles
The guides below have been hand-picked to help further your education about selecting & using mobile routers.