This device was discontinued in the Spring of 2020 and is expected to replaced by a newer version. If you've paid for an HTC 5G Hub, you'll get a full credit monthly on your remaining installments or a lump sum of $300 if you made a one-time payment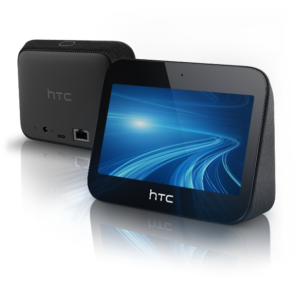 The HTC 5G Hub is Sprint's first data-only 5G device.
Announced in late 2018, the Hub was available for preorder on May 17, 2019 and became officially available on May 31st, 2019 (our news story) to those within 5G service areas.
The HTC 5G Hub - the most ambitious mobile hotspot we have ever seen.
Here is how Sprint describes it:
Sprint will be the exclusive U.S. provider for the unique and powerful HTC 5G Hub. Within the Wi-Fi radius of HTC 5G Hub, non-5G devices such as laptops, tablets, phones and TVs can easily experience the speed of Sprint 5G. It enables smooth 4K video streaming for an amazing TV viewing experience, lower latency, virtually buffer-free gaming, and 5G or 4G LTE Advanced mobile hotspot connectivity for up to 20 users in a compact desktop box with a 5-inch display.
As a home media center, HTC 5G Hub will harness Sprint's 5G speeds to stream 4K videos to a second screen and deliver crisp and clear content. It can also replace a Wi-Fi router and remove unnecessary cables with a simple plug-and-play setup. Intuitive voice command makes it easy to manage entertainment or play your favorite games on your home TV. ...
Small and home-based businesses will quickly find HTC 5G Hub to be a must-have business tool. A built-in Gigabit Ethernet port and 7,660mAh battery will keep teams powered up and easily connected.
In other words - this is a mobile hotspot on steroids. On paper - it supports peak 5G cellular performance of "up to 2.63 Gbps downlink, uplink 287 Mbps".
The HTC 5G Hub is more than just a mobile hotspot. It actually runs Android, can hook directly up to a big screen - and you should be able to run many streaming apps and even games on the hotspot itself with no additional devices required.
The 5G Hub even has high-speed 802.11ad (aka WiGig) local wireless technology built in, which HTC claims will enable you to eventually stream VR experiences directly from the cloud:
"In the future, you will be able to stream VR content from the cloud to your VIVE headsets via the HTC 5G Hub—no PC or unnecessary cables required—to enjoy a mobile, high-end VR experience in real time."
This is a hotspot from the future.
---
Specifications
Model Number: HTC 5G Hub
# of Connected Devices: 20 via 802.11ac Wi-Fi, 4 via 802.11ad
Control Panel and Default Password:
Control Panel: Not Yet Known
Default Password: Not Yet Known
USB Tethering Support: Yes, can be tethered to a PC.
WiFiRanger Tethering: tbd
Pepwave Tethering: tbd
Supported Networks and Bands:
4G/LTE Bands: 2, 3, 4, 5, 7, 8, 12, 13, 25, 26, 41, 66, 71
5G Band: n41
MIMO Support: 4x4 internal for LTE and 5G
LTE Performance Category: Category 20
(Max Theoretical Speed: 2Gbps Down / 315Mbps Up)
Other Ports: USB-C, Gigabit Ethernet
Wi-Fi Technology / Frequencies: 802.11 b/g/n/a/ac/ad - Simultaneous dual-band 2.4GHz & 5GHz plus 60GHz 802.11ad WiGig
Claimed Battery Life: unknown, 7,660 mAh battery
Can Be Powered Without a Battery: Unknown
Dimensions: 5.1'' x 3.9'' x 1.7'' / 12oz (340g)
SIM Card Type: Nano
Retail Price: $600
---
Review & Testing Status
This product is only being made available to customers in Sprint's 5G launch cities, but we have reached out to HTC and Sprint to receive a review unit once they are more broadly available.
---
Potential Alternatives to Consider:
For other popular mobile hotspots on the market - here are our featured options:
---
This Review Contains Additional Member Exclusive Content!
We are Honored to be Member Funded!
No ads, no sponsors, no selling (but may contain affiliate links)
Our members fund our in-depth independent reviews.
This entry may contain additional member exclusive content such as testing notes, field testing data, user interface tours, comparisons to alternatives, analysis, tips, videos and discounts.
Members also get interactive guidance, alerts, classroom and more.
Purchasing Options
Available direct from Sprint, but only for those who are currently in a Sprint 5G area:
The HTC 5G Hub is a Sprint exclusive for "the foreseeable future" - though hopefully similarly ambitious mobile hotspots will be released for other carriers as well.
---
Related News Stories
Mobile hotspot devices are small, self-contained units that receive a cellular data signal and transform it into an internet connection. They are a cellular modem and router combined. Most can create their own personal Wi-Fi network.
They are typically designed with a specific cellular carrier in mind and require a suitable cellular data plan of their own to operate. You might see them called Jetpacks (Verizon's term for them) or MiFi (Inseego's name for them).
Here's a quick video going over the features of a hotspot, and what makes one better than another:
The guides below have been hand-picked to help further your education about selecting mobile hotspots and best utilizing them in your mobile internet setup.