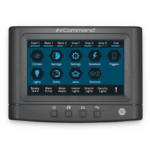 RV equipment supplier ASA Electronics (best known for owning the brand Jensen) has been providing a centralized systems control panel for a wide range of newer RVs with a system called the ASA iN-Command Control System.
In early 2018, ASA began to offer a "Global Connect" feature on select control panel models to allow for app-based remote control and monitoring even while away from your RV.
At the moment, ASA does nothing to provide cellular or long-range WiFi access to enable the Global Connect feature - you need to already have access to an established WiFi hotspot for the Global Connect control panel to reach out to the cloud.
ASA explained to us:
"While we do not currently sell our own hotspot, iN-Command with Global Connect was designed to work with any aftermarket hotspot, as well as campground wifi and any cellular provider. This allows the end user to choose which provider and products they want to use, rather than limiting them to one or two providers."
And indeed - some RV manufacturers are actually combining the Winegard ConnecT 2.0 with the ASA In-Command Global Connect.
We do expect that ASA will be moving to expand In-Command and Global Connect substantially in the years ahead - and we would not be surprised to see cellular and/or long-range Wi-Fi better integrated or offered as an option in the future.
For more information on In-Command, and a list of the RV models that support it, see the In-Command web portal.
---
Review & Testing Status
We have not tested this system.
More Information Available to our Members

We are honored to be able to present the above overview for free without 3rd party advertising.
In thanks for funding this resource center our members have access to any further notes, analysis, insider info, member experiences and/or our full in-depth review of this product or offering.
If you're a member, please log in above to read the review.
---
Purchasing Options
Currently only available to manufacturers