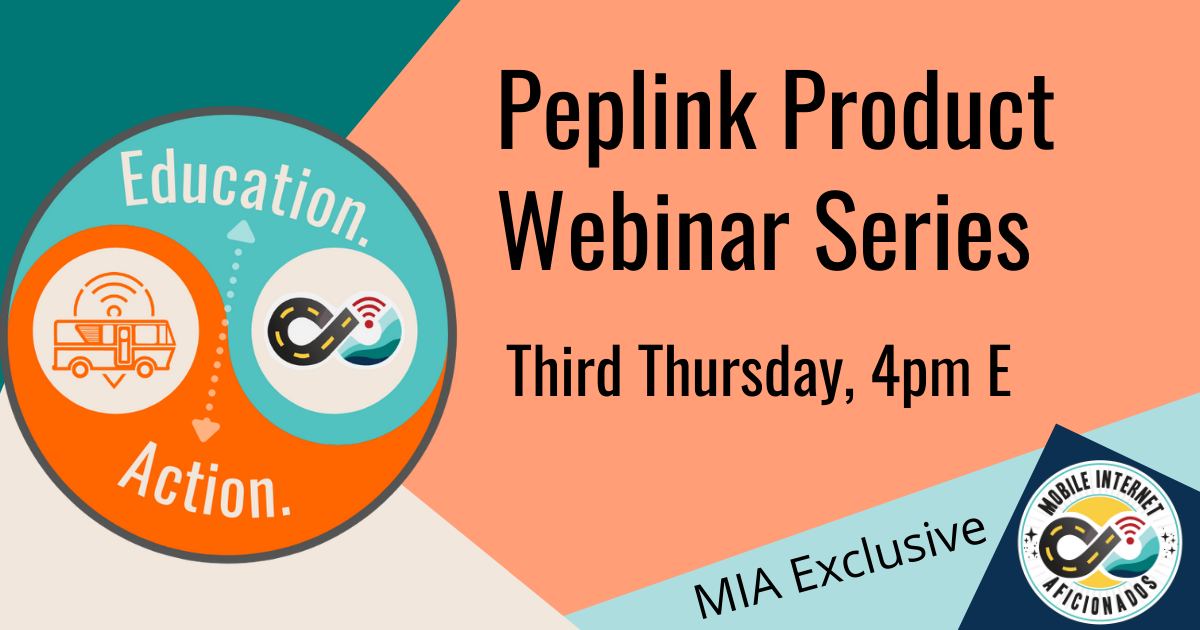 Monthly Pepwave Product Webinar Series: Co-hosted with our friends at MobileMustHave.com, every month for our premium MIA Members exclusively.
This series will feature a casual educational presentation about a Peplink product or configuration, and then open to member questions for interactive education. These are not sales focused, but meant to be educational for current or future Pepwave product owners.
We strive to host these member exclusive webinars on the THIRD THURSDAY of every month at 4pm Eastern - so put it on your calendar!
This Month's Topic: Optimizing Cellular Data Performance
Peplink routers have a collection of features so you can optimize your cellular data performance. In this webinar, we'll be overviewing using external antennas, boosters, cellular band locking and combining multiple connections with bonding/load balance. We've had deep dives on all of these topics before, this will be more of a higher level overview discussing how each can play a role in optimizing your setup for different scenarios. A little less geek and more practical - co-hosted this time Erik of MobileMustHave and Cherie of MIRC.
View our companion guide on this topic (which is also where the archive of this webinar will live after broadcast):
Optimizing Cellular Data Performance on a Peplink Embedded Router
The time displayed may be adjusted for the time zone your browser thinks you're in, so be sure adjust for the time zone you'll be in for the actual session.
Please note: These webinars will be archived for viewing later in our Member Exclusive Video Library and when appropriate, might become part of our our more advanced Peplink Resource Center.